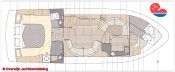 Year of construction
2008
Steyr M16 TCAM MO256H45 with no less than 250 hp. State of the art!. Well maintained motor yacht with lots of luxury and perfect layout and sailing characteristics.
Basic data of the Antaris Steeler 1220 AC
Seller:

Overwijk Jachtbemiddeling

Reference:

2020061201

Brand:

Antaris

Model:

Steeler 1220 AC

Ship's name:

Pinot

Motorization:

Steyr M16 TCAM MO256H45 with no less than 250 hp. State of the art!

Category:

Motor Yacht

Year of construction:

2008

Material:

Steel

Experience:

A day of boating fun, Family holidays, Shallow waters, (Semi) permanent residence, Blue water cruising, seagoing, Weekendcruiser, weekends aboard

Length:

40.03 feet

Width:

13.45 feet

Draught:

3 feet

Variable draught:

No

Vertical clearance:

260 cm

Headroom inside:

200 cm

Berths:

4fixed, 2 additional

Country:

Netherlands

To view in sales harbour/showroom:

No , (elsewhere)

Price:

£ 132.689 VAT Paid (€ 148.000 VAT Paid)

Account Manager:

Homme Overwijk
General
Remarks:

Antaris repositioned his beacons in 2008 and brought a line of steel vessels on the market that differed from many of their steel siblings by a higher speed, a Ce-B standard (sea), better space utilisation and finishing and use of the latest technical possibilities. It has to be said, this ship is indeed distinctive on those points. Plus points are still the sophisticated underwater hull which, in combination with the great Steyr with 250 hp, guarantees excellent sailing characteristics, the very nice layout with both the saloon and the forward cabin a beautiful round seating area, a modest interior steering position, a front cabin for guests and an aft cabin with French bed and a separate shower and toilet area.
The current owners bought the ship after a purchase inspection in 2015 and made long voyages. They did not want to take risks and the luxury of home was a must. That's why the ship is full of options and has been maintained down to the last detail and much (sometimes preventively) renewed.

Our remarks

There won't be many ships 12 years old that are as impressive as this one!
We have thoroughly inspected the boat and can conclude that perfect maintenance pays off. Only the tent should be renewed in time and the painting should be done within a few years. You don't find rust, but the paint system has become poorer after twelve years.
The ship overwinters indoors every year.
The owners are now sailing the ship in the north of the Netherlands. However, serious interested parties are welcome to visit the boat under the supervision of the broker.

Maintenance status

The most important works and renewals are the purchase by the current owner.

2016

Checked the entire ship's underwater and above-water paint system and repaired a few small spots.
Generator checked in detail.
Engine checked in detail.
Screw overhauled.
New Permateak deck laid.
Shower floor newly glued.
New starter battery.
New marine radio Simrad RS87.
Alternator overhauled.
Replace main switch and fuse inverter preventively.
New waste water tank filter.
New fuel filters.
Preventive fuel pump replacement.

2017

Some rust spots inside hull removed and coated.
New ultrasonic dirty water tank gauge Vetus.
New wood inlaid around steering console.
Gas hose and pressure regulator replaced.
Extra gas bottle placed.
New floor in gasbun.
Fire extinguisher engine room certified.
New fire extinguishers.
Extensive maintenance paint system.
New rev counter.
New timing belt.
New impellor.
New odour filter waste water tank.
Engine overhaul.
Engine valves set.
Engine generator.
New glow plug generator.
Hatch entrance door newly sealed.
New main power switch.
New GPS antenna.
New shower drain set Rule.
Supports mounted for windbreaks.
Service hot air heating.
New battery splitter Dolphin DB120-2C

2018

Entire ship under- and above water paint system checked and some small spots repaired.
Odour filter dirty water tank renewed.
New service batteries 3 x Victron Energy AGM 12-200
New Victron BMV-702 battery monitor.
Wiper motor renewed.

2019

Main switch generator renewed.
Screw reconditioned.
New outer bearing propeller shaft.
New propeller shaft seal.
New propeller shaft.
Flexible clutch replaced.
New seal rudder stock.
Damper plate reversing clutch preventively replaced.
Hot air heating overhauled.
Engine overhaul.

2020

New Morse control Low Friction.
New door freezer in refrigerator.
New thermostatic faucet in shower.
New starter battery generator.
New charging current distributor Victron Energy Argo Fet.


Click here for more information



Designer:

Antaris Shipyard Woudsend

Shipyard:

Antaris Shipyard Woudsend

Hull number:

2007501

CE-category:

B
Sea! Sea! Sea! Sea! Sea! Sea! Sea! Sea! Sea! Sea! Sea! sea! sea! sea! sea! sea! sea! sea! sea! sea! sea! sea! sea! sea! sea! sea! sea! sea! sea! sea! sea! sea! sea! sea! sea! sea! sea! sea! sea! sea! sea! sea! sea! sea! sea! sea! sea! sea! sea! sea! sea! sea! sea! sea! sea! sea! sea! sea! sea! sea! sea! sea! sea! sea! sea! sea! sea! sea! sea!

CE max weight:

2,500 kg

CE max engine:

250 hp

Passenger capacity:

6

Hull shape:

Multi-chine

Hull colour:

Yellow

Deck colour:

White

Deck construction:

Steel

Windows:

Contained in aluminium.

Aft cockpit:

Vertical clearance:

2.6 m
With mast approx. 370 cm.

Minimum height:

260 cm

Draught:

97 cm

Waterline length:

1,080 cm

Displacement:

14,000 kg

Steering system:

Wheel

Position steering system:

Inside + outside

Remote control:

Rudder:

Single
Accommodation
Saloon:

Layout and spaces inside:

See layout below.

Headroom:

200 cm
See standing height per room below.

Separate Dining area:

Engine room:

Cabins:

2

Berths:

fixed: 4 Extra: 2

Type interior:

Classic, warm

Color upholstery:

Beige

Mattresses:

Cushions:

Curtains:

Water tank & material:

480 litre Stainless steel
2 x 240 litres.

Water tank gauge:

Vetus.

Waste water tank:

250 Litre Stainless steel

Waste water tank gauge:

Waste water tank drainpump:

Deck suction:

Water system:

Pressure system

Hot water:

Boiler Isotemp 75 liters, 750 Watts.

Outside water:

Deck Shower

Number of showers:

1

Toilets:

1 Electric
Tecna.

Television:

Sharp with lift.

Radio/CD player:

JVC

DVD player:

Cooker & fuel:

3 burner(s) Gas
With glass cover.

Oven:

Sharp microwave.

Microwave:

Sharp microwave.

Fridge & power source:

85 Litre Electric
Compressor fridge Isotherm.

Freezer:


In fridge

Heating:

hot air
Eberspächer Airtronic L-D5 12V with a capacity of 5.5 kW.

Comments:

Additional

Lay-out

Rear deck with two benches with storage space. Central steering position.
Salon with the bank to starboard. Opposite cabinet wall with a.o. the TV. Modest starboard position also on port side.
Forward cabin with corner kitchen to starboard. Opposite the dinette with beautiful bench.
Forward cabin with two stacked beds and closet.
Central hall in aft cabin and toilet room accessible from hall
Maser bedroom with French bed and wardrobes all around. Bathroom with shower and washing machine accessible from master bedroom.

Sta heights (cm)

Salon: 198
Forward cabin t.h.v. kitchen: 195
Forward cabin: 195
Aft cabin hall: 199
Toilet space: 198
Master bedroom: 199
Bathroom:194

Dimensions beds (cm)

Master bedroom: 200 x 160
Forward cabin under: 200 x 90
Forward cabin above: 220 x 90
Dinette: 230 x 150
Engine, electrics
Number of identical engines:

1

Starting type:

Electric

Type:

Inboard

Brand:

Steyr

Model:

M16 Tcam mo256H45

Serial number:

68227289

Year:

2007

Number of cylinders:

6

Power:

250 hp

Hours counter:

Engine hours:

1,950

Fuel:

Diesel

Fuel consumption:

4.7 litre/hour
Average consumption from purchase to date. Consumption on inland waterways average 4 l/hour.

Gearbox:

Hydraulisch ZF45-1, reductie 3,01:1

Transmission:

Shaft

Propulsion:

Propellor
Clockwise rotating 23R17 Faster Mn bronze 4-bladed propeller.

Cooling system:

Indirect
Water-cooled exhaust with water lock and gooseneck.

Fuel tanks:

1

Total fuel tank(s) capacity:

650 Litre

Fuel tank material:

Steel

Max speed:

18 km/h

Cruising speed:

16 km/h

Fuel tank gauge:

Vetus

Tachometer:

VDO

Temperature gauge:

VDO

Bow thruster:

Electric Mobile remote control
Side Power SP75Ti12, 12 Volt

Stern thruster:

Electric Mobile remote control
Side Power SP95Ti12, 12 Volt

Battery:

7 x
See under

Battery charger:

120 A
Victron Energy Phoenix Multi Plus 12/3000/120.

Alternator:

Battery monitor:

Generator:

Fischer Panda PMGi 4000 4 kW

Inverter:

3.000 Watt
Victron Energy Phoenix Multi Plus 12/3000/120.

Voltmeter:

Via battery monitor.

Shore power:

With earth leakage switch.

Shore power cable:

Voltage:

12V 220V

Comments:

Accumulators

Service: 3 x Victron AGM 220 Ah, 12V
Buggler/anchor winch: 1 x Odyssey PC2250/12V
Jackbolt: 1 x Vetus SMF Marine 85 Ah 12V
Start: 1 x Centurion NRG 88 Ah, 12 V
Generator: Optima Redtop AGM RTS-4.2L 50Ah 12 V

Supplementation

Separation transformer: Victron Energy Isolation Transformer 3600
Accus separator: Victron Energy Argofet 100A 3 Output
Accum monitor: Victron Energy BMV 702
Shaftshaft: Water-lubricated, stainless steel 316 Ø 40 mm
Flexible coupling: Python-drive
Navigation and electronics
Log/speed:

Raymarine Tridata 5T60+

Depth gauge:

Raymarine Tridata 5T60+

Navigation lights:

Rudder position indicator:

On display autopilot.

Autopilot:

Raymarine ST6002 Smart Pilot met afstandsbediening

Chart plotter:

Raymarine C80

Radar:

Raymarine Radome RD-218

VHF:

Simrad RS87

Comments:

Supplement

Display of rear view camera at inside steering position.
Deck Equipment
Anchors & material:

1 x poolanker 35 kg Stainless steel

Anchor connection:

Chain

Anchor windlass:

Electric
Vetus Alexander III 12V.

Sprayhood:

Convertible hood with zippered sides and doors.

Bimini:

Met uitritsbare zijden.

Outdoor cushions:

Sea rails:

Stainless steel.

Swimming platform:

Integrated.

Swimming ladder:

Extendable in cassette in swimming platform.

Davits:

Stainless steel.

Fenders, lines:

Comments:

Supplement

Deck with plastic teak
Bollards stainless steel
Frogs stainless steel
Windscreen aluminium (corroded in various places)
Stainless steel handrails
Folding mast stainless steel
Flight hatch front cabin
Horn
Fender holders stainless steel
Steps to bathing platform
Anchor chain box and gas bun in foredeck
Hook shower
Windscreen wipers with interval
Safety
Life buoy:

Life raft:

Seago Seacruiser ISO 9650-2 approved.

Bilge pump:

Electric

Fire extinguisher:

3x Ecofex SF-EF (March 2019).

Flares:

2x Pains Wessex Orange Hand Smoke Signal MK8A.

Gas bottle locker with drain:

Comments:

Additional

Automatic firefighting system in engine room
Neutral rudder supply

Antaris Steeler 1220 AC
£ 132.689 (€ 148.000)

VAT Paid