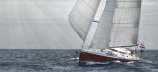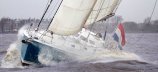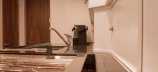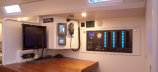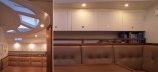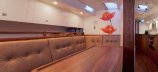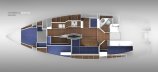 1 Yanmar 4JH4-CE 52 hp. Atlantic 43 is an aluminium sailing yacht with lift keel.
Basic data of the Atlantic 43
Seller:

Jachtwerf Atlantic BV & Jachtcentrale Harlingen

Reference:

YFM-116

Brand:

Atlantic

Model:

43

Motorization:

1 Yanmar 4JH4-CE 52 hp

Category:

Sailing Yacht

Material:

Aluminium

Length:

45.60 feet

Width:

14.11 feet

Draught:

0 feet

Variable draught:

No

Country:

Netherlands

Price:

price on request
General
Designer:

Atlantic Nieuwbouw BV & Dick Zaal

Shipyard:

Atlantic Nieuwbouw

Draught:

cm

Waterline length:

1,192 cm

Ballast:

4.2 tonnes

Comments:

Now more information about the Atlantic 43 can be found in the brochure.


Lift keel

Electric/hydraulic double-acting stainless steel keel lift cylinder with 2kW hydro unit and keel clamping system
.


Control

Jefa system (RP200), Tandem spoke aluminum steering wheel (1300mm). On the Jefa steering column a Plastimo Horizon 135 compass will be mounted.
Accommodation
Engine, electrics
Number of identical engines:

1

Type:

Inboard

Brand:

Yanmar

Model:

4JH4-CE

Power:

52 hp

Comments:

Diesel tank: 450 ltr.
Water tanks: 430 ltr.
24V for service (2 x 200Ah AGM) and 12V for engine (1 x 80Ah AGM) & navigation (1 x 150Ah AGM).
24 & 12 volts charger
Segregation transformer
Wall connection
Wall connection cable set
2 x 230volt sockets
Volt- and ampere meters. (Analog)

All rooms are equipped with adequate lighting, 34 light points in total.
Navigation and electronics
Comments:

The complete navigation lighting of Aqua Signal is applied: 3-colour top light with anchor light, steam light/deck light, red/green on pulpit and stern light.
Navigation instruments can be specified by the client but are standard equipped with Plastimo Horizon 135 compass on steering column and Raymarine ST60+ Depth gauge, Speedometer and Wind gauge.
Rig and sails
Sail surface:

4,330

Comments:

Mast

Hall Spars custom made aluminium mast with a length of 18.00 m on deck in profile 9871 (247 x 179) from One piece sprayed in white. Rejuvenated mast top with welded in mast head with discs for inner mainsail trap, crane line and two genuavallen.
Through-through for inside spinnaker trap
Two brackets for spinnaker drop block(s)
Toggles for attachment of forestay and backstay
Welded cutter-stay hardware with disc for inside breeding traps
Confirmation points for T-terminals of backstays
2 pairs of streamlined oval halls with flag-like eyes: intermediates continuous up to deck.
Confirmation points for spoon terminals of top mittens, intermediates, bottom mittens and babystag
Aluminum disc housing for inside spinnaker pole (placed under the cutterstay fittings)
Sailing input for mainsail overhangs
Lummel hardware with eye for attachment of neck angle (without reefing hooks)
Exits for interior mainsail trap, crane line, two nua traps, jib trap, spinnaker trap and spinnaker boom retriever.
Through-holes for neck-angled reefing lines mounted on the mast
Aluminum mast base
PVC tube for protection of one power cable, including two cables and a tow line.
Three-colour light top light with anchor light
Some light with protective bracket
Windex mounted on mast
Deck floodlight mounted on front of mast
1 Spinlock XTS/2 double stopper (roller jib/stay jib) mounted on mast at SB
Welded cable outlet on mast front for electrical and instrument cables
4 hinged guide blocks for traps and reefing lines and 3 Ronstan blocks for guidance of third reefing line (rear) and 2 down halters
1 x winch foundation plate with insulation for Andersen 40ST fall winch on mast (BB)
1 Aluminium frog 7"/178mm for the crane line (SB)


Jib

Hall Spars aluminium boom (4,65 m long) in profile 8253 (208 x 134) painted white with rejuvenated end.
Welded end fittings with provision for inside reefing lines for
1-reefline system for first and second reef.
Provisions for outboard and inboard reefing line for third reefing line
Jib attachment points for blocks of lower hoist
Jib-mounted frog (BB) for hoist of lower lattice puller
Fixing points for 2 striker blocks
In the boom for 2 internal preventers ( 1xBB & 1 xSB)
Frederikse serie 200 outhaultrack with SL-223 outhaulcar with slide rods.


Staande want

Butterstay, babystay and intermediates 8mm stainless steel wire 1 x 19 with Gibb 5/8" tensioners and toggles

.
Rearstay sprout 10mm 7 x 19 with on one side a 5/8" tensioner and stainless steel block with steel wire disk
.
Loose backstays

Running rigging
1 Mainsail trap 14mm Braid with key lock operable from cockpit
1 Crane line 10mm Braid with D-closure
1 Genuine 12mm Armastar (red) with D closing and 10mm Braid hoisting line
1 Cutterfall 12mm Armastar (green) with D-lock and 10mm Braid hoisting line
1 Subtractor 12mm Spectra with hoist in the boom
2 reefing lines for 1-reefing system of first and second reef, 12 mm Braid operable from cockpit
1 Large bulkhead, 11mm Maffioli DSK 75 with Polyester cover
2 Jib shots, 14 mm Harkon bulkhead rope
2 Cutterjib shots, 14 mm Harkon bulkhead rope
2 Controller lines 8 mm Braid for the overflow slide
2 Control lines 8 mm Spectra including closures for the nuola slides
2 Pigtails, 12 mm Armastar

Rolling system
Jib: Furlex type 300S for 10mm forestay

Sailing
Sailcover: standard, colour of your choice
Rreef jib: 47.70 m², 9.5 oz dacron, crosscut/fanned cut, cruising version,
suitable for Furlex reefing/roller installation.
Dotter jib: 17.50 m², 9.5 oz dacron, crosscut/fanned cut, cruising version
with leuvers
.
Deck Equipment
Comments:

2 Andersen type 52 ST lap winches on cockpit edge
1 Lap winch Andersen type 40 ST on mast
1 Schoot winch Andersen type 40 ST on roof dockhouse
4 Andersen type 46 ST lap winches on cockpit edge

Large overflow system from Ronstan

1 overflow rail 2 mtr
1 overflow cart with double control discs and spring for standing block
2 endpiece with double discs/ doggone/clamp
1 single block 75mm with dog photo for on overflow cart
1 single block 75mm to boom
standing block 75mm with base plate and spring


Stag breeding system of Ronstan

2 genuarail 2 mtr
2 nuawagen with plunger stop
2 double turning block 100 mm


Genoa system from Ronstan

2 genuarail 4 mtr
2 nuawagons with single control disc
2 end piece with control disc/dog (for on rail)
2 Spinlock XTS single stoppers for control line


Rolfok system

4 roll jib guide eye for on sceptres
1 rotating roll jib guided block
1 Spinlock XTS single stopper for control line


Fall stoppers/fall guides from Spinlock

2 XTS stoppers 8-14 mm quadruple
2 fall arrest slides 5 disc 50mm
2 fall arrest slides 4 discs 38mm


Stag system

2 upright block 75mm with base plate and spring

6 Goiot aluminium frogs
1 Lewmar 22 low profile hatch around
2 Lewmar 30 medium profile hatch
2 Lewmar 54 medium profile hatch
4 Lewmar portholes, open version
11 solid plastic (acrylic) windows under construction
10 stainless steel scepters with plastic canisters mounted in the anodized jars
RVS pulpit and fence chair
Henderson bilge pump, operated from the cockpit
3 aluminium filler caps for water and diesel tank
2 Goiot aluminium deck fans
1 Rocna anchor with 10 mtr chain and 30 mtr line
4 Landrails, 4 fenders
2 Fire extinguishers
1 Gas bottle with Camping Gaz 3 kg
1 Flag, flagpole and holder
2 winch trade Andersen, Aluminium version
Double marine railing wire with PVC sheathing
1 stainless steel bathing ladder
1 radar reflector
This boat data may have been translated into your language via an automatic translation program. Errors can occur during this process. Ask the seller for complete boat details before purchasing.