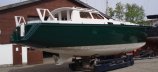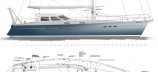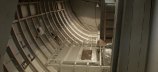 1 Yanmar 4JH4-TE 74 hp. Atlantic 46 Pilothouse is a custom build aluminium sailing yacht with lifting throat and two rudders.
Basic data of the Atlantic 46
Seller:

Jachtwerf Atlantic BV & Jachtcentrale Harlingen

Reference:

YFM-117

Brand:

Atlantic

Model:

46

Motorization:

1 Yanmar 4JH4-TE 74 hp

Category:

Sailing Yacht

Material:

Aluminium

Length:

45.93 feet

Width:

13.78 feet

Draught:

4 feet

Variable draught:

No

Country:

Netherlands

Price:

price on request
General
Designer:

Atlantic Nieuwbouw BV & Van der Stadt Design

Shipyard:

Atlantic Nieuwbouw

Draught:

130 cm

Maximum draught:

270 cm

Waterline length:

1,180 cm

Comments:

For more information (in English) please see the attached brochure.


Lifting throat

Electrical/hydraulic system with double working stainless steel cylinder, 3kW generator and separate manual back-up system. The throat system can be managed through control switches from the steering area. Keel dept indication system.


Steering
Accommodation
Berths:

fixed: 0

Comments:

The interior joinery is high grade and stylishly executed in American cherry chosen by client. Style and standard of finish will be as in any yacht built by us to date.
Engine, electrics
Number of identical engines:

1

Type:

Inboard

Brand:

Yanmar

Model:

4JH4-TE

Power:

73 hp

Comments:

Fuel tank: 640 lt.
Water tank: 600 lt.
Black water tank: 60 lt.
Navigation and electronics
Comments:

Navigation lights

Aqua signal three-colour masthead with anchor light
Aqua signal steaming/deck light
Aqua signal port-/starboard lights separate on the pulpi
Aqua signal stern light on pushpit.


Navigation and electronic instruments

Cockpit at steering wheels
2 x Plastimo Horizon 135 compass
Raymarine ST6002+ autopilot controller
Raymarine 240 VHF extra handset


Near enterance pilothouse

Raymarine ST60+ depth-, log, windmeter and close haule


On the mast


On the aluminium support afterdeck/cockpit

Raymarine Raystar 125 GPS/SD Antenna


At navigation desk in pilothouse

Raymarine ST60+ graphic multi display
Raymarine Ray 240E DSC class D VHF, handset and blackbox
Raymarine ST-8002+ autopilot controller
Raymarine AIS500 class B transponder
SPX-30 corepack autopilot computer set in combination with Jefa direct drive unit 150Nm - 12 Volts complete with shaft and bracket to fit on RG10 gearbox
.
Sea Talk cross over coupler
Sea Talk Pactch cable, 10 mtr
Seatalk cables and parts
Rig and sails
Sail surface:

5,580

Comments:

Mast

Selden aluminum mast from one piece with conventional masthead, deckstepped, 2 spreaders, untappered, demolition. Spar section C304. FH=17.82m, P=16.05m, BH=1.315
.


Tree

Selden aluminum tree, E=6.1 m, S=4.8 m. Spar section B200.
Selden rodkick 30S/2200 Hard jump
Single line reef system (reef 1 & 2) and
1 slab reef system for reef 3, all conform rigging data


Furling system

Furlex furling system FLX400S for Yankee
Furlex fruling system FLX300S for Cutterstay


Standing rig

Headstay, backstay (upper part with wireblock), capshrouds and lower shrouds 12mm wire 1 x 19 with rigging screws and studs.
Backstay leg, 10mm 7 x 19 wire with Selden mechanical backstay tensioner to be operated with winch handle.

2 x Checkstays

Running rig
1 Main halyard, 14mm Braid with key-shackle
1 Service halyard/Tree top lift, 10mm Braid with D-shackle
1 Yankee halyard, 12mm with D-shackle
1 Staysailhalyard, 12mm with D-shackle
1 Outhaul, 12mm including tackle and blocks
2 reeflines,12mm Braid for single-line reefing system (Reef I and Reef II)
1 set of reeflines (outboard and tack-reeflines) for Reef III
1 Mainsheet
2 Yankee sheets
2 Staysail sheets
2 control lines, for genoa/yankee cars


Sails

Made by UK/De Vries Sails. Standard cruising sails, mainsail battened including 3 reefs, Yankee and Staysail. Sail cover for mainsail.
Deck Equipment
Comments:

Stainless steel pulpit and pushpit.
12x stainless steel stanchions
6x aluminum cleats.
5x Aluminum deck fills for water, fuel and blackwater tanks.
Frederiksen deck layout for: mainsheet system, self tacking jib system (via sheave in mast), Yankee system plungerstop, mastfoot blocks/organisers/clutches port and starboard, footblocks, clutches near helmsman, Furler system blocks and clutches and running backstays.
Andersen self-tailing winches:
- 2 x 52ST in cockpit
- 2 x 46ST in cockpit
- 2 x 28ST on Selden mast
1x Sz 77 Lewmar Medium pofile deckhatch
2x Sz 44 Lewmar Low profile deckhatch
10 x Sz0 Lewmar portlight fixed in hull on Port/Starboard side
4x Sz4 Lewmar portlight opening in superstructure on Port/Starboard side
6x thermic-line fixed and 1 thermic-line opening windows in pilot house
4 x Goiot deck fans on atlantic system.
1 x Lewmar V4 electrical anchor winch (24 Volts) with 2 x stainless steel quality footswitch on foredeck.
Anchor chain locker under foredeck for 50mtr stainless steel anchor chain (10mm) with Delta anchor (galvanised steel) at front ship.
4x mooring lines and 4x fenders
1x fire extinguishers
1 x automatic fire extinguisher in engine room
1 radar reflector
2 bilge pumps (1 electrical)
1 Gas bottle from Camping Gaz, 3 kg
1 flag, flagstaff and stand
2 Andersen winch handles, Aluminum
1 stainless steel boarding ladder
This boat data may have been translated into your language via an automatic translation program. Errors can occur during this process. Ask the seller for complete boat details before purchasing.