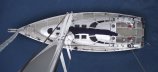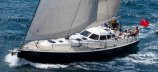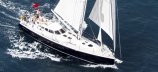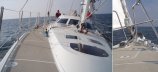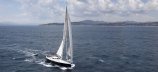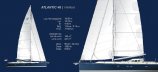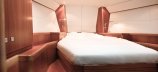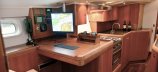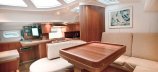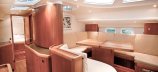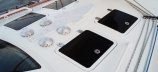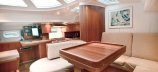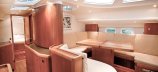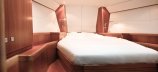 1 Steyr M126 121 pk. De Atlantic 48 is echte oceaan cruiser, klaar voor het avontuur in elk weertype.
Basisgegevens van de Atlantic 48
Verkoper:

Jachtwerf Atlantic BV & Jachtcentrale Harlingen

Referentie:

YFM-118

Merk:

Atlantic

Model:

48

Motorisatie:

1 Steyr M126 121 pk

Categorie:

Zeiljacht

Materiaal:

Aluminium

Lengte:

15.78 m

Breedte:

4.45 m

Diepgang:

125 cm

Variabele diepgang:

Nee

Land:

Nederland

Prijs:

prijs op aanvraag
Algemeen
Ontwerper:

Atlantic Nieuwbouw BV & Dick Zaal

Werf:

Atlantic Nieuwbouw

Diepgang:

125 cm

Diepgang maximaal:

314 cm

Lengte waterlijn:

1.378 cm

Opmerkingen:

Steering

Jefa double steering system in the cockpit with two single spoke stainless steel steering wheels with leather cover. One compass at each steering wheel.


Lifting keel

Electrical/hydraulic system with double working stainless steel cylinder, 2kW generator and separate manual back-up system. The keel system can be managed through control switches from the steering area.
Accommodatie
Slaapplaatsen:

Opmerkingen:

The interior joinery is high grade and stylishly executed in American cherry chosen by client. Style and standard of finish will be as in any yacht built by us to date. Other woodwork finish are available at additional cost.
Motor en elektra
Aantal identieke motoren:

1

Type:

Binnenboord

Merk:

Steyr

Model:

M126

Vermogen:

120 pk
Navigatie en elektronica
Opmerkingen:

Aqua signal navigation lights: three-colour masthead with anchor light, steaming/deck light, port-/starboard lights separate on the pulpit, stern light on pushpit. The navigation equipment is standard Raymarine ST60+ Depth, Speed and Wind system and 2x Plastimo Horizon 135 compass near steering wheels
Tuigage
Zeiloppervlak:

6.570

Opmerkingen:

Mast

Mast by Hall Spars: 1171 tapered aluminium mastsection, I = 19,83m, P= 19,33m. AWLgrip white coating mast.
Welded-in masthead with aluminium sheaves for in-mast main halyard, boomlift and two Yankee/Genoa halyards.
Two cranes with U-bolts for attachment of blocks for spinnakerhalyard.
Aluminium crane with stainless steel bushings for attachment of backstay toggle and aluminium fitting with stainless steel bushings for attachement of headstay toggle.
Backing plates installed for attachment of capschrouds, intermediates, lower schrouds and babystay.
Tangs for attachment of inner forestay with over/under sheave box for staysail halyard and toppinglift
Tangs for attachement of check stays.
Two sets of tapered aluminium spreaders. The lower spreaders with strap eyes for attachment of burgee lines.
PVC conduit installed up to the masthead to protect wires, including pilot line and cables for navigation lights. PVC conduit installed at front of the mast, including cables for lights and pilot lines for installation of radar cable and antenna cables.
Aluminium cable exit installed at front of the mast.
Entries for internal lazy jacks positioned under upper spreaders
All halyard exits to include stainless steel chafepads.
Custom swivel fitting with sheaves and blocks for halyards and reefing lines which can be operated from the cockpit
Insulated hard anodized aluminium mast heel with rocker to suit mast step fitting and rake angle.
Mounted on mast:
- Spinlock twin halyard stopper for yankee- and staysail halyard.
- Andersen ST40 halyard winch
- 1 aluminium cleats 7"/178 mm for boomlift halyard
- 2 Aluminium cleats for lazy jack tails
- windex
- 3-colour masthead light with anchor light
- Steaming and deck light with protection guard
- Frederiksen Full Batten System mounted on the mast.


Boom

Hall Spars aluminium boom with tappered outboard end E = 5,20 m in section 8757
AWLgrip white coating boom.
Welded in outboard ends for:
- single line reefing system for first and second reef
- reefingline for third reef
- outhaul
Provisions for 2 internal preventers and attachment for boom topping lift
Stainless steel pad eyes for attachment of two mainsheet blocks
Boom set up for loos footed mainsail
Frederiksen serie outhaultrack + outhaulcar with slide rods.
Aluminium cleat installed on boom for outhaul line
Provisions for attachment of three point Lazy Jack system


Standing rig

Headstay, backstay (upper part with custom wireblock), capschrouds and lower shrouds, 12mm wire 1 x 19 with rigging screws and studs.
Innerstay, babystay and intermediates, 10mm wire 1 x 19 with rigging screws and studs.
Backstay leg: 10mm, 7 x 19 stainless steel wire including turnbuckle and backstay tensioner
2 Checkstays 12 mm Aramstar
Furlex 300 furling system for headstay


Running rig

1 Main halyard, 14mm Braid with key-shackle
1 Service halyard/Boom toppinglift, 10mm Braid with D-shackle
1 Yankee halyard, 12mm Armastar with D-shackle
1 Staysailhalyard, 12mm Armastar with D-shackle
1 Set lazy jacks: 3 point connection on the boom
1 Outhaul, 12mm Spectra including tackle and blocks
2 reeflines,12mm Braid for single-line reefsystem (Reef I and Reef II)
1 set reeflines (outboard and tack-reeflines) for Reef III
2 Preventers, 12mm Braid with snap-shackle
1 Mainsheet, 11mm DSK 75 PC
2 Yankee sheets, 14mm Harkon
2 Staysail sheets, 14mm Harkon
2 control lines, 8mm Braid for mainsheet traveler
2 control lines, 8mm Braid for genoa/yankee cars
* Mainhalyard, reefinglines, outhaul and preventers to be operated from the cockpit


Furling system

Yankee: Furlex 300S furling system for 12mm headstay


Sails

Mailsail: 65,70 m² , 9.5 oz dacron, crosscut snit, Cruising quality with battens and 3 reefs.
Sail cover: standard, in colour to buyers choice
Furling Yankee: 62,90 m², 9.5 oz dacron, crosscut/fanned snit, Cruising quality, fits onto Furlex 300S furling system.
Staysail: 23,0 m², 9.5 oz dacron, crosscut/fanned snit, Cruising quality with hanks
Uitrusting buitenom
Opmerkingen:

2 Andersen 58 ST sheetwinch (cockpit Port and Starboard side)
1 Andersen 40 ST sheetwinch on mast
1 Andersen 46 ST mainsheet winch, on roof dockhouse
4 Andersen 46 ST winches (cockpit Port and Starboard side)

Mainsheet system from Ronstan

1 track 2 mtr
1 traveller with 2 control line sheaves and stand up block 75mm
2 end cap with 2 control line sheaves and becket
1 single block, 75mm on boom
1 stand up base with 75mm block


Staysail sheet system from Ronstan

2x track, 2 mtr
2x traveler with plunger stop
2x single foot blocks, 100 mm


Yankee sheet system from Ronstan

2x track, 4 mtr
2x travelers with single control line sheaves
2x end cap with 2 control line sheave and becket
2 Spinlock XTS single clutch for control lines

Navtec backstay tensioner
6x aluminum cleats on deck
7x Lewmar low profile hatches
8x Lewmar portholes, fixed in hull
2x Lewmar portholes, opening in superstructure
11x fixed custom made acryl windows in superstructure
4x Goiot aluminium deck ventilators
12x stainless steel stanchions mounted with insulation in anodised aluminium stanchion base
Stainless steel pushpit and pulpit with navigation light
5x Aluminum deck fills for water, fuel and waste water
1x Whale bilge pump operated from cockpit
2x electric bilge/hose pumps
Rocna anchor with 50 mtr chaim and 40 mtr line
Lewmar electrical anchor winch 24V
Bowtruster MaxPower 24V
4 Warps – 6 Fenders –
1 fire extinguishers
1 automatic fire extinguisher in engine room
1 Gas bottle from Camping Gaz, 3 kg
1 flag, flagstaff and stand
2 Andersen winch handles, Aluminium
Double searailing wire with white PVC cover
1 stainless steel boarding ladder
1 radar reflector
Deze bootgegevens zijn mogelijk via een automatisch vertaalprogramma naar uw taal vertaald. Daarbij kunnen fouten ontstaan. Vraag de verkoper om volledige bootgegevens voordat u tot aanschaf overgaat.