Safety 31 is the newest and most demanding creation from Ht Houseboats. Its subtle futuristic design is combined with a luxurious atmosphere and...
Basisgegevens van de HT Houseboats Safety 31 Catamaran
Verkoper:

HT Houseboats

Referentie:

312715

Merk:

HT Houseboats

Model:

Safety 31 Catamaran

Categorie:

Woonboot

Bouwjaar:

2020

Materiaal:

Overig

Lengte:

10 m

Breedte:

4.50 m

Diepgang:

50 cm

Variabele diepgang:

Nee

Slaapplaatsen:

6vast

Land:

Polen

Te bekijken in verkoophaven/showroom:

Ja

Prijs:

€ 104.000 incl. BTW

Accountmanager:

Agnieszka Miklus
Algemeen
Opmerkingen:

Safety 31 is the newest and most demanding creation from Ht Houseboats. Its subtle futuristic design is combined with a luxurious atmosphere and creates an incomparable harmony. Thanks to the panoramic view in the living room, you have the best view of everything that is happening around you. On the large flybridge with its own steering station, plenty of places to sit and rest invites to spend time outdoors. With the best view of your surroundings, you will not only sizzle in the sun, but also sizzle on the gas grill and refresh yourself with cool drinks straight from the fridge. MAKE YOURSELF COMFORTABLE The carefully crafted cabins of the Safety boats give the word COMFORT a new meaning. Every detail has been so refined that you will feel like you are vacationing in a luxury hotel. Long journeys will be a pleasure for you. DON'T YOU WANT TO GO ON A CRUISE? Take your family and friends on a trip without worrying about it being too crowded. Even if it's just for a weekend party. You can choose between three or four cabins, each with its own toilet with shower and washbasin. Lockers provide enough space for luggage. Your privacy is preserved, as is your good mood. Special moments become priceless memories. SAFETY 31 residential boat, 30 m2 living area, 4-6 people, 2 bedrooms, modern design, roof TERRACE, luxurious kitchen and bathroom, CE-D 104,000 - excl. VAT INVOICE / 127,920, - incl. VAT. ALUMINUM FLOATS SPECIAL SHAPE - VERY LOW RESISTANCE, LOW RIPPING AND FUEL CONSUMPTION, SUITABLE FOR ELECTRIC MOTORS, DOES NOT PUSH THE WATER JUST CUT, SEE VIDEO ALUMINUM BOAT CONSTRUCTION length 10m - without engines, after installing the engines, length 11m with the engine width 4.5m - very rich equipment - smart home electrical installation, it is possible to control the heating and the entire installation from the application on the phone - aluminum windows - large windows 3 panes heat coefficient 0.5 - dry sauna - hot tub - cockpit with furniture, yacht upholstery - 2 outdoor teak tables on a large stainless steel leg - stairs to the upper deck made of stainless steel and teak wood - on the upper deck, very comfortable yacht furniture and a teak table - panoramic window in the living room - the heat pump - air conditioning - wood fireplace - furniture, beds, wardrobes, furniture in the living room, sofa, tv, pioneer sound system HOUSE BUILDING SANDWICH PANELS plastic finish, high gloss GFK laminate No cold bridge - no condensation 10-20 cm of insulation Water tank, Dirty water tank including water pump, tubing and level gauges Kitchen equipment: fridge, sink, induction cooker, coffee machine, electric boiler for hot water Outdoor terrace, flexi teak eva. stainless steel railing The ceiling is made of high gloss laminate with LED lighting Laminate flooring with a plastic vinyl panel Internal walls covered with varnished wood Bathroom: shower, sink, mirror, electric toilet, fan Laminated interior doors, exterior doors and windows made of aluminum profiles CE-D Full warranty after 1 year of use Additionally equipped with, among others: Roof terrace Air conditioning Sauna hot tub wood fireplace closed and safe ready to sail this houseboat made in HT Houseboats shipyard, 10 years of tradition, more than 80 houseboats so far, more than 50 boats sail in Germany HT Houseboats has been producing for 10 years - catamaran houseboats - aluminum work boats - floating home boats Offer valid from April 15, 2021 to May 6, 2021 Mooring A berth for HT Houseboat is available at hthouseboats.com
Klik hier voor meer informatie



CE:

8

Diepgang:

50 cm

Waterverplaatsing:

6.500 kg
Accommodatie
Hutten:

3

Slaapplaatsen:

Vast: 6

Aantal douches:

1

Toiletten:

1

TV:

Radio/CD-speler:

Koelkast & voeding:

Vriezer:

Verwarming:

aanwezig

Airconditioning:
Veiligheid
Deze bootgegevens zijn mogelijk via een automatisch vertaalprogramma naar uw taal vertaald. Daarbij kunnen fouten ontstaan. Vraag de verkoper om volledige bootgegevens voordat u tot aanschaf overgaat.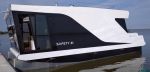 HT Houseboats Safety 31 Catamaran