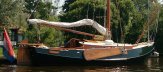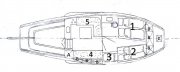 Year of construction
1969
Mercedes OM636 42 HP 1980. Beautiful, characteristic Van der Werff fireplace with excellent sailing qualities.
Basic data of the Van Der Werff Zeeschouw 995
Seller:

Scheepsmakelaardij Goliath It Heidenskip

Reference:

7386

Brand:

Van Der Werff Zeeschouw

Model:

995

Ship's name:

Janboel v/h Omala

Motorization:

Mercedes OM636 42 HP 1980

Category:

Flat and round bottom

Additional category:

Sailing Yacht

Year of construction:

1969

Material:

Steel

Experience:

A day of boating fun, Family holidays, Suitable for part ownership, Shallow waters, Sailing races, Weekendcruiser, weekends aboard

Length:

32.64 feet

Width:

11.22 feet

Draught:

3 feet

Variable draught:

Yes

Vertical clearance:

1280 cm

Headroom inside:

195 cm

Beds:

7fixed

Country:

Netherlands

To view in sales harbour/showroom:

No , Sneek

Price:

under offer
General
Remarks:

Beautiful, characteristic Van der Werff fireplace with excellent sailing qualities. The current and second owner has owned the ship since 1983. Brochure available at: ytzen@scheepsmakelaardijgoliath.nl Viewing by appointment:0031-6-103 59 729
Click here for more information



Designer:

The ship is characterized by a very beautiful interplay of lines that is clearly reflected in the low cabin superstructure with its rounded corners and the sliding hatch that bends along with the shape of the cabin roof. The panelling was done by Max van Dijk Lemmer at the time.

Shipyard:

Piet van der Werff Scheepsbouw Lemmer
Piet van der Werff Shipbuilding Lemmer

Hull shape:

Flat bottom
Flat-bottomed. Skeg with built-in closed cooling system, otherwise filled with lead ballast

Hull colour:

Green

Deck colour:

Brown

Deck construction:

Steel
The cabin is equipped with a centrally placed, opening cuckoo gives a lot of daylight in the cabin.

Superstructure:

steel with nicely shaped gable roof. Sitting in the cockpit you have a good view over the cabin and the foredeck.

Windows:

A total of eight opening and two fixed portholes: six opening portholes in the cabin, one opening porthole in separate laundry/toilet room and one opening porthole in the front. Two fixed portholes in the front Windows material Toughened glass

Vertical clearance:

12.8 m

Minimum height:

245 cm

Variable depth:

Draught:

80 cm

Maximum draught:

180 cm

Minimum draught:

80 cm

Displacement:

10,000 kg
10000

Ballast:

425 kg
425

Steering system:

Helm

Position steering system:

Outside

Rudder:

Single
Heavy oak rudder. Paint system on waterline bare.

Keel/Lee board:

Leeboards
Skeg with built-in closed cooling system, otherwise filled with lead ballast

Drift restriction controls:

Manual

Comments:

Painting system underwaterTowers Bottom Coat

Color underwaterBrong/brown

When applied t2019

Thickness steel underwater 4 mm. Sole skeg: 10 mm.

Paintsystem hullSuper Gloss International

Paint system inside hull2 components

Hull colourGreen (239)

When applied 2019

Steel hull thickness4 mm

Building paint system] International Super Gloss Cabin Epiphanes (brown)

Color superstructureWhite and off-white 242 and 243 (cabin roof and deck , deck partly with anti-slip paint)

When applied2019

Thickness steel construction3 mm.

Ship sandblasted / whenN.v.t. outside above waterline the whole ship is scraped (1968)

Paintwork system spars / swordsEpifanes PP varnish 2 components Spars have been completely bare in 2015 and have been varnished 6 x in 2 components and 5 x with Epifanes Clear varnish (according to Epifanes advice)

.

Customs declaration

Equipment operating instructions

Country of originNetherlands

Letter of measurementExpired.

Motor manual
Accommodation
Headroom:

195 cm

Cabins:

2

Berths:

fixed: 7

Type interior:

Classic, warm
The light interior has a warm appearance due to the use of a lot of (teak) wood. Storage spaces are easily accessible by the use of many drawers. Two wardrobes with doors and shelves. Between these cabinets there is an open compartment with double shelves. Furthermore, there is plenty of storage space under the two extendable cages. On the starboard side there is a staircase with three steps from the cockpit to the cabin. There are three storage compartments under the steps. The teak table is in high

Color upholstery:

Red

Mattresses:

Cushions:

Water tank & material:

485 litre Steel
Three tanks.

Water system:

Pressure system
Electric foot-operated pump

Number of showers:

Under construction, drain is ready.

Toilets:

1 Manual
Dimensions sanitary space: 1.80 x 1.30 m, headroom 1.82 m. Forward sliding, large washbasin with electric pump. Fresh air by means of bronze porthole and electric exhaust.

Radio/CD player:

Philips.

Cooker & fuel:

3 burner(s) Gas

Fridge & power source:

Electric
Loose cool box (brand Electrolux) on 12 volts/220 volts (possibly on gas)

Comments:

Full equipment incl. six-piece crockery (Mepal)

Beneath the gas cooker there are three storage compartments, two of which are drawers. Under the sink there is a double storage cupboard and behind the sink there is another lockable storage cupboard. From the galley is a spacious tempered glass window overlooking the cockpit
Engine, electrics
Number of identical engines:

1

Starting type:

Electric

Type:

Inboard

Brand:

Mercedes

Model:

636

Serial number:

50246

Year:

1980

Number of cylinders:

4

Power:

42 hp

Engine hours:

3,200

Fuel:

Diesel

Transmission:

Shaft

Propulsion:

Adjustable propellor
Propulsion by means of a 2-blade reversing screw. Runs in a hydraulic bath

Cooling system:

closed.

Fuel tanks:

1
Steel with large manhole.

Total fuel tank(s) capacity:

150 Litre

Fuel tank material:

Steel

Tachometer:


malfunction

Oil pressure gauge:

Temperature gauge:

Battery:

2 x 120 Ah
Gel batteries from 2018 and 2012.

Battery charger:


Victron Blue Power charger 12/10 and 2 Dunlop trickle chargers.

Alternator:


by motorbike

Voltmeter:

Shore power:

Shore power cable:

Voltage:

12V 220V
sockets: 2x 12V and 4x 220V.
Navigation and electronics
Compass:


Place loose liquid compass in cockpit.

Depth gauge:

Seafarer 501

Navigation lights:

On drumstick above wing. Detachable navigation lights (e.g. for lowered mast) consisting of two-colour light, steam light and stern lighting

GPS:

Furuno GP-31
Indicates speed and location. No time function.

VHF:

Radio Ocean RO4700
Rig and sails
Sailplan type:

Gaff

Number of masts:

1
Material mast Oregon, in very good condition, painted in 2015, free of knots and cracks/tears Material boom Oregon, boom and jib boom in very good condition, equipped with stainless steel fittings, free of knots and cracks/tears

Spars material:

Wood

Bowsprit:

Standing rig:

Steel wire

Sails material:

Dacron

Sails manufacturer:

Schokker Volendam, Gaastra en Sterk Sneek.

Main sail:

Mainsail Mainsail reefing system 3 x binding reef Mainsail material, age and m² Mainsail 32.5 m2 , 2002 (sailmaker Schokker Volendam) Mainsail is in good condition. Spare mainsail available in reasonable condition (Gaastra) Mainsail Hood in reasonable condition.

Genoa:

Genoa Genoa reefing system Bindrif Genoa material, age and m² Botterfok 21,38 m2 in new condition 2014/2015 (sailmaker Sterk Sneek) Spare butterfok available, is in moderate condition (Gaastra)

Jib:

Breeding Breeding reefing system Bindrif Breeding material, age and m² Stag breeding (Gaastra)

Flying jib:

Jib Jib equipment, age and m² Good condition, Gaastra

Winches:

2 X breeding lap with delay. 1 X sail winch, 1 X jib winch.

Comments:

Mast ironing installation mast ironing with the help of buckle legs that are concealed under footwear when in rest position. The winch for hoisting the mainsail can also be used for lowering the mast.

Material mastOregon, in very good condition, lacquered in 2015 , free of knots and cracks/cracks

Material boomOregon, boom and jib boom in very good condition, equipped with stainless steel fittings, free of knots and cracks

Material stagingRVS 7 X 7

Sailing materialDacron

ShotsYes. The chopping block with outer fittings of the mainsail bulkhead is attached to the landing

.

Fall

SailorSchokker, Strong and Gaastra.

SummertentSummertent for over entire cockpit, is in good condition

OtherHull (bonter) breeding Two pieces : one in new condition and one in reasonable condition.

Special featuresWooden corvine nail bench with four bronze corvine nails
Deck Equipment
Anchors & material:

2 x Stokanker Cast iron

Anchor connection:

Rope and chain

Anchor windlass:

Manual

Cockpit tent:

Boat cover:

Sail lowering system:

Crutch:

Fenders, lines:

Landrails 5 X Pick-hook 2 X and long boom. Fenders 5 X.

Comments:

Anchor roller With lead weighted anchor line and leading chain approx. 40 metres + humming line

Wintercloth For over the entire ship with the mast lowered, is in reasonable condition

OtherWinch on foredeck for operation of anchor and jib shafts

AdvantagesHutters for cuckoo and front hatch: are in good condition.
Safety
Radar reflector:

Gas bottle locker with drain:

Self-draining cockpit:

Comments:

Shut-off valves typeBall valves. Renewed in 2015.

Ankerbolt collapsible.

Gasbun lockable, for five kg (filling weight) gas bottle Butagas with venting to the outside.

Toplight

OtherTeak escape hatch, also for ventilation and equipped with round, fixed porthole
This boat data may have been translated into your language via an automatic translation program. Errors can occur during this process. Ask the seller for complete boat details before purchasing.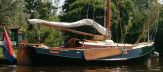 Van Der Werff Zeeschouw 995