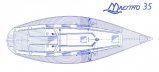 Year of construction
1985
Yanmar 29 HP / 21.63 kW. Super well sailing Finnish beauty. Spacious aft cabin, Recent: mainsail, Plotter, AIS, batteries, heater, Saildrive seal, ceiling in saloon+aft cabin
Basic data of the Maestro 35
Seller:

For Sail Yachtbrokers Zuid

Reference:

4635

Brand:

Maestro

Model:

35

Ship's name:

Stabiele Factor

Motorization:

Yanmar 29 HP / 21.63 kW

Category:

Sailing Yacht

Year of construction:

1985

Material:

GRP - sandwich

Experience:

A day of boating fun, Family holidays, (Semi) permanent residence, Blue water cruising, seagoing, Weekendcruiser, weekends aboard

Length:

35.27 feet

Width:

11.48 feet

Draught:

7 feet

Variable draught:

No

Vertical clearance:

1750 cm

Headroom inside:

180 cm

Beds:

4fixed, 2 additional

Country:

Netherlands

To view in sales harbour/showroom:

Yes

Price:

£ 57.808 VAT Paid (€ 65.000 VAT Paid)

Account Manager:

Nick Dikmans
General
Designer:

Elvind Still

Shipyard:

Maestro Boats in Finland

Hull number:

45

CE-category:

Exempt
Voor 1998 gebouwd

Hull shape:

Roundbilge

Hull colour:

White

Deck colour:

White

Deck construction:

Grp - sandwich
teak on superstructure (needs maintenance), teak on the bridge deck between the two cockpits (needs maintenance) and teak on deck (needs maintenance)

Windows:

Lewmar deck hatches (scratched), Vetus deck hatch and tempered glass Hora windows in aluminium frames in the superstructure

Cockpit:

Aft cockpit

Vertical clearance:

17.5 m

Draught:

210 cm

Waterline length:

838 cm

Displacement:

5,200 kg

Ballast:

2,280 kg
(lead)

Steering system:

Wheel
Cobra steering position with a stainless steel steering wheel, upholstered in leather

Position steering system:

Outside

Rudder:

Single
balanced rudder, fitted with new buses in 2018

Keel/Lee board:

Fixed keel
extra deep stinging fin keel

Comments:

White polyester hull with a light blue striping.
Teak on the cockpit benches (needs maintenance) and teak on the cockpit floors (needs maintenance). The teak is glued everywhere (so not screwed).
Balsa Sandwich in the deck, in the superstructure and in the hull.
The through hulls and washbasin seacock in the aft bathroom were renewed in March 2017.
In the spring of 2020 a new layer of antifouling was applied to the underwater hull.
In the winter of 2016/2017 the underwater hull has had an osmosis treatment and has been fitted with a CopperCoat epoxy system.


General description

MAESTRO 35 built in 1985, A quality sailing cruiser designed by Elvind Still, built by Maestro Boat in Finland with a three cabin layout with one aft cabin.

CONSTRUCTION: White GRP hull, deck and superstructure, Fin throat and spade rudder, Teak double cockpit and decking, Wheel steering (Cobra).
Maestro yachts are known for their very high build quality and great sailing performance. "Stabile Factor"s elegant European styling combined with the Finnish attention to detail and function make her a truly unique performance cruiser. A full service history is availableSome

information about the yard

 

The Maestro Yard is strategically located on Finlands West Coast in the region famous for boatbuilding since the 17th century when the great crafstmen of their time built trading vessels sailing between Finland and Sweden.

The yard is only 20km away from the Nautor Swan yard and 2km from the Balti Yachts Yard and has been producing yachts for over 30 years.

At Meastro they maintain the tradition for building quality boats and offer a range of Ocean going cruising and racing yachts of the highest standard, both for family use and competitive sailing.


Some back ground info on the designer

Pekka Koskenkyla (founder of Nautor) wrote in 'How the Swans were born' the following...
"It all started as a hobby. I grew up on the coast (Helsinki) and I have always had or wanted to have boats. My first vessel was a canoe, which I built myself in the evenings after school at the age of 14. In fact next year I built five of them for sale. Then nothing much happened in my boat building career for ten years because of school and university, where I majored in economics.

After graduation I wanted to have my own boat, so I started to build a wooden sailing boat of 11 meters. I worked in the evenings and weekends in my father-in-law's shed in Pietarsaari, where I had a job selling paper sacs. It took about 2 years to finish the boat and when it was almost complete a dentist from Helsinki wanted to buy it.

The first boat that I built was designed by a local amateur naval architect and full time teacher of mathematics, Eivind Still. He was naturally disappointed, when I decided not to use his drawings ( for the Nautor Swans ), but Eivind Still later became quite well-known in Scandinavia with the many boats that he later designed".

Eivind Still also designed other fine craft such as the Finn Flyer in 1980, The Maestro 35 in 1985, The Maestro 38 in 1985, The FinnYacht 381 in 1986, The FinnYacht 351 in 1986, The Maestro 40 in 2004 and the FinnFlyer 32 CR in 2006.

A talented man.
Accommodation
Saloon:

Headroom:

180 cm

Separate Dining area:

Engine room:

Cabins:

2
Forward cabin, aft cabin and saloon

Berths:

fixed: 4 Extra: 2

Type interior:

Classic, warm
Teak panelling

Color upholstery:

Beige

Mattresses:

Curtains:

blue curtains in the aft cabin

Water tank & material:

100 litre Stainless steel

Water system:

Pressure system
electric water pressure system (waterpump from 2010)

Number of showers:

1
bathroom with a cold hand shower

Toilets:

1 Manual
Jabsco (with a new gasket set from 2017)

Radio/CD player:

De Luxe radio / CD player with a USB connection, JBL saloon speakers and cockpit speakers

Cooker & fuel:

3 burner(s) Gas
Stainless steel Force Ten

Oven:

stainless steel Force Ten oven and grill

Fridge & power source:

Electric
Top loader fridge with a cold battery and a Waeco TEC compressor

Heating:

hot air
July 2017 : Pladar 44D heating with 2 blow points

Comments:

The beautiful teak interior gives a huge cozy ship atmosphere. The paintwork and woodwork are in good condition.
Under the cockpit is a beautiful spacious owner's cabin with a french bed in the middle.
A cot can be supplied for a small child.
In the aft cabin is a lot of closet space and also a dressing table.
The galley is equipped with 2 stainless steel sinks.
Large chart table top (for large sea charts).
Brass Ship's clock and a brass Royal Mariner Barometer against the main bulkhead in the saloon.
Dimensions beds : Front cabin : 1,95 x 1,70 meters | Rear cabin : 1,95 x 1,40 meters | Starboard saloon settee : 2,05 x 0,60 meters.| Port side saloon settee : 1,90 x 0,60 meters.
Headroom in forward cabin : 1,75 m | Saloon : 1,80 - 1,85 m | Galley : 1,70 - 1,82 m | aft cabin : 1,60 - 1,80 m | Navigation angle : 1,80 m | Bathroom : 1,81 - 1,82 m.

Executed in June 2020 :

Sky on the ceiling in the saloon and in the aft cabin renewed.

Executed in 2019 :

New rubbers placed near the fridge.

Executed in 2018 :

Executed in 2017 :

Fully lacquered interior.
 

Accommodations
V-berth forward followed by main salon with U-shaped settee to port which converts to a double berth. A straight setteeberth to starboard, with a centerline table with large drop-leaves which allows for comfortable dining for six. To port of the companionway is an L-shaped functional galley with a walk-through to the master cabin. Aft cabin has a centerline queen berth with seats to port and starboard. To starboard of the main companionway is the head and shower which can be accessed from both the aft stateroom and main salon. Just forward of the headshower is a sit-down nav station, all-teak interior with teak and holly sole.
 
Engine, electrics
Number of identical engines:

1

Starting type:

Electric

Type:

Inboard

Brand:

Yanmar

Model:

3GM30FC

Serial number:

E23573

Year:

1999

Number of cylinders:

3

Power:

27 hp
/ 21.63 kW

Fuel:

Diesel

Fuel consumption:

2.5 litre/hour

Transmission:

Saildrive

Propulsion:

Folding propellor
2 leaves

Cooling system:

Indirect

Fuel tanks:

1
fully cleaned in winter 2016/2017

Total fuel tank(s) capacity:

70 Litre

Fuel tank material:

Stainless steel

Max speed:

7 knots

Cruising speed:

6 knots

Tachometer:

Battery:


May 2019 : 2x 105 AH VMF Sportline RV service battery and 1x 60 Ah Maintenance Free engine battery.

Battery charger:

25 A
Victron Pallas 12/25

Alternator:

55 A

Voltmeter:

Shore power:

Fixed connection with a recent circuit breaker

Shore power cable:

Control panel:

Bass Products panel with fuses (at the card table)

Voltage:

12V 220V

Comments:

Separate fuel filter with a water separator and a sight glass.
In the aft cabin there is a 12 Volt socket.
At the chart table are a 12 Volt socket and a double USB connection.
3x 220 Volt socket (forward cabin, 2x chart table).

Executed in 2019 :

April 2019 : Major engine maintenance carried out.
April 2019 : New oil.
April 2019 : New filters.
April 2019 : New impeller.
May 2019 : All atomizers tested.
May 2019 : Diesel fuel pump serviced.
May 2019 : New ball bearings at saildrive shaft, new seals at Saildrive shaft, Saildrive oil renewed.

Executed in 2016/2017 :
Navigation and electronics
Compass:

Suunto
at the steering position

Log/speed:

Silva NX2
(2020 : Arimar Tridata Sensor)

Depth gauge:

Silva NX2
(2020 : Arimar Tridata Sensor)

Wind gauge:

Silva NX2 Wind

Navigation lights:

3 Colours top (2016 : Mantagua LED), anchor (2016 : Mantagua LED), steam, deck, bow (Mantagua 2018 : Mantagua LED) and stern lights

Charts, guides:

Rudder position indicator:

Autopilot:

Simrad Roberson AP20 with a Autohelm Drive

GPS:

2019 : B&G V5 kaartplotter
(at the card table)

Chart plotter:

2019 : B&G V5 kaartplotter
(at the card table)

AIS:

2017 : AIS Receiver + Splitter

VHF:

2018 : Icom IC-M423 with a second handset for in the cockpit

Comments:

Executed in 2019 :

The drive-unit of the autopilot has been overhauled.
WiFi.
New coax cable pulled into the mast.
Multiplexer.
August : Silva NX2 Computer

In the cockpit 3x Silva NX2 Multi Control display and 1x Silva NX2 Wind display are mounted.
Rig and sails
Sailplan type:

Fractional
7/8 witnessed

Number of masts:

1

Spars material:

Aluminium
pierced and rejuvenated Selden mast, boom (overhauled in 2019), boomvang, stainless steel Dyform stays, double set of spreaders, backstay stay and backstay tensioner.

Standing rig:

Steel wire

Sail surface:

53.98 m2

Number of sails:

4

Sails material:

Dacron

Main sail:

July 2017 : Sail Select : Full battened Off-shore/racing, 8.77 Oz. (385gr) US High Modulus Premium Dacron, cross-cut mainsail (as new - 38.4m2)

Genoa:

1990 : furling genoa II

Jib:

2006 : Hagoort Sails : Dacron/Laminated High Aspect HA furling jib (with reefing tape)

Furling foresail:

2006 : Harken Cruising 1

Spinnaker:

1990 : Spinnaker (approx. 54 m2)

Winches:

Meissner : 4x 23 ST and 2x 21. Lewmar : 1x reefing winch

Manual winches:

7

Self-tailing:

4

Comments:

Carbon spinnaker boom.
Light blue mainsail hull.
Light blue Rocon (genoa cover).
Adjustable bulkhead overflow on the bridge deck between the two cockpits.
Barber haulers.
Rakes genoa-shot carts.
Spinlock drop stoppers.

 

Executed in 2018 :

New dyneema reefing lines on the checkstays (with new Selden blocks) and on the backstays.
New dyneema talie of the backstay.
New dyneema genoa shots.
Mast foot is blasted and sprayed.
New mast collar.

Executed in july 2017 :

All Meisner winches overhauled.
A gag has been placed in the underside of the mast, so there is almost no more leakage through the pierced mast.
Standing rigging approved.
New Dyneema mainsail trap.
New dyneema big shot.
New Dyneema genuaval.
New Dyneema spinnaker.
New topping-lift and down...
New reefing line.
New landing gear.
Deck Equipment
Anchors & material:

1 x Fortress FX16 Aluminium

Anchor connection:

Rope and chain

Sprayhood:

there is only one frame

Outdoor cushions:

1x dark blue Comfort Seat

Boat cover:

2019 : Blue Performance sunshade

Sea rails:

stainless steel scepters with double-wire sea railing (checked in 2019) and netted all around in 2020.

Push- and pulpit(s):

Swimming ladder:

stainless steel

Teak deck:

Fenders, lines:

4x nieuwe licht blauwe fender (2019), 1x zwarte bolfender (2018), 6x landvast (2017)

Cockpit table:

Comments:

On and fold-out teak cockpit table (hangs at the front of the steering position).
Teak cup-holder at the front of the steering position.
The teak deck needs maintenance. The teak is glued everywhere (so not screwed).
There are no anchor fittings mounted on the bow.
220 Volt WLA Vacuum cleaner.
Safety
Life buoy:

Bilge pump:

Manual Electric

Fire extinguisher:

3x fire extinguisher (must be inspected/renewed) and 1x fire blanket

MOB system:

on the B&G card plotter

Radar reflector:

2x tube radar reflector

Gas bottle locker with drain:

the gas hoses were renewed in 2018

Self-draining cockpit:

Comments:

Emergency tiller.
Orange horseshoe lifebuoy on the fence seat.
This boat data may have been translated into your language via an automatic translation program. Errors can occur during this process. Ask the seller for complete boat details before purchasing.

Maestro 35
£ 57.808 (€ 65.000)

VAT Paid

(

€ 69.000

)