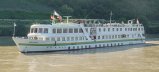 Year of construction
1965
2x Deutz 2x SBA 8 M 816 2x 1979 2 hp.
Basic data of the Hotel Passagiersschip 100 passagiers
Seller:

Doeve Makelaars en Taxateurs Jachten en Schepen

Reference:

210701

Brand:

Hotel Passagiersschip 100 passagiers

Motorization:

2x Deutz 2x SBA 8 M 816 2x 1979 2 hp

Category:

Professional ship(s)

Year of construction:

1965

Material:

Steel

Length:

221.49 feet

Width:

29.46 feet

Draught:

5 feet

Variable draught:

No

Country:

Netherlands

To view in sales harbour/showroom:

No , Omgeving Amsterdam

Price:

£ 888.461 (€ 999.000)
General
Remarks:

A well maintained inland cruise ship in which the current owner has made continuous investments to be able to offer guests an excellent stay. This is reflected in the guest areas and guest cabins but also in the technology on board. In total there are 54 guest cabins with en-suite bathrooms and 11 crew cabins. It is a cozy boat with a beautiful panoramic salon that is equipped with a bar and a dance floor. The restaurant is spacious with the excellently equipped kitchen behind it. It is a fully operational Hotel Passenger Ship that is used on the Rhine, Moselle and the major rivers and canals of the Netherlands. It is also an excellent ship to use as a floating hotel with restaurant or as temporary accommodation. Full information on this ship can be found on www.doevemakelaar.nl.
Click here for more information



Shipyard:

Scheepswerf C. Amels & Zonen, NL-Makkum

Hull shape:

platbodem

Deck construction:

staal

Superstructure:

staal

Draught:

157 cm

Displacement:

maximum toelaatbare waterverplaatsing 716,807 m3 waterverplaatsing in ledige toestand 644,217 m3 verplaatsing 72,590 m3

Ballast:

52 m3 ballast tank(s)
Accommodation
Berths:

Oven:

Rational combi steamer oven Gastrodis combi steamer oven

Microwave:

Caterchef magnetron

Fridge & power source:

inloop koelruimte met 400 Volt koelcompressor 3x flessen koelkast

Freezer:

inloop vriesruimte met 400 Volt compressor

Heating:

2x Buderus centrale verwarming op diesel

Air conditioning:

Daikin air conditioning in iedere hut aanwezig in desalon aanwezig & restaurant
Engine, electrics
Brand:

2x Deutz 2x SBA 8 M 816 2x 1979

Power:

2x 489 pk 2x 360 kW

Engine hours:

bakboord 16811 (07-2021) stuurboord 16908 (07-2021)

Propulsion:

2x 5 blads schroef vetgesmeerde schroefas vetsmeerapparaat

Cooling system:

2x gesloten 2x beunkoeler

Fuel tanks:

18000 liter 2 stalen tank(s) 1 dagtank(s)

Bow thruster:

Padmos DSV 403 elektrische boegschroef 90 pk 400 Volt

Battery:

start accu(s) 3x start accu(s) generator nood accu(s)

Battery charger:

Victron Skylla-TG acculader 24/75 Mastervolt Chargemaster acculader 24/60-3

Generator:

1x Deutz 1015 C diesel 300 kVA 230/400 Volt 1x Deutz BF 6 M 1013 EC fluisterset 160 kVA 230/400 Volt 1x Deutz diesel 105 kVA 230/400 Volt

Comments:

Besturing: hydraulisch 2x balansroer 1x 24 Volt noodbesturing stuurwiel
Stroomvoorziening: 24 / 230 / 400 Volt 230 Volt walstroom aansluiting 400 Volt walstroom aansluiting
Navigation and electronics
Comments:

Navigatie apparatuur: Alewijnse Explorer A4 Automatisch Identificatie Systeem (AIS) Alphatron JMA 608T daglicht radar Radio Zeeland Euro 500/600 automatische piloot Radio Zeeland Euro 120 echolood / dieptemeter Sailor RT2048 marifoon Sailor 6248 marifoon Neho intercom Radio Zeeland Euro 500 bochtaanwijzer kompas hoorn blauw bord met knipperlicht clinometer radio / CD 3x inbraakalarm computer Tresco kaartplotter 2x ruitenwisser
Deck Equipment
Bimini:

aanwezig

Comments:

Waterdruksysteem: 2x hydrofoor Gas systeem: geen gas aan boord Aanvullende informatie: 1400 liter smeerolietank (ca.) 2x reserve schroef lucht compressor deels LED verlichting elektrisch motorbedienings systeem brandbluspomp
Safety
Bilge pump:

4x elektrische pomp via manifold tevens dekwaspomp

Comments:

Reling / Preekstoel: reling rondom bovendek Bijboot: aanwezig kunststof buitenboord motor Veiligheid: brandblussers automatische brandblusinstallatie reddingsboei(en) reddingsvesten brandalarmsysteem brandblusdeken volgens de certificering-eisen
This boat data may have been translated into your language via an automatic translation program. Errors can occur during this process. Ask the seller for complete boat details before purchasing.

Hotel Passagiersschip 100 passagiers