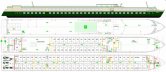 Year of construction
1990
Scania DI16 42M 2011 commissioned 3 hp.
Basic data of the Hotel / Passagiersboot 138 passagiers
Seller:

Doeve Makelaars en Taxateurs Jachten en Schepen

Reference:

200501

Brand:

Hotel / Passagiersboot 138 passagiers

Motorization:

Scania DI16 42M 2011 commissioned 3 hp

Category:

Professional ship(s)

Year of construction:

1990

Material:

Steel

Length:

343.41 feet

Width:

33.60 feet

Draught:

5 feet

Variable draught:

No

Country:

Netherlands

To view in sales harbour/showroom:

No , Omgeving Rotterdam

Price:

£ 2.214.482 (€ 2.490.000)
General
Remarks:

A *** Hotel Passenger ship that has been reefed for a large part in 2011. The complete propulsion installations as well as the generators have been renewed which gives a good operational reliability. In the following years the ship was further modernized and repaired. For example, the guest cabins were upgraded in 2018/2019 and the reception area and day toilet group were renewed in 2019/2020. This is an operational ship which, due to its equipment and construction method, has a very large sailing area. There are a total of 69 guest cabins with en suite bathroom and 15 crew cabins with en suite bathroom. There is a lift on board so that all floors and the sundeck are accessible for the disabled. Full information about this ship can be found on www.doevemakelaar.nl.
Click here for more information



Shipyard:

Scheepswerf De Nieuwe Scheepswerven Sint-Barbara, B-Maasmechelen

Hull shape:

platbodem

Deck construction:

staal

Superstructure:

staal

Draught:

140 cm

Displacement:

maximum toelaatbare waterverplaatsing 1198,007 m3 waterverplaatsing in ledige toestand 796,140 m3 verplaatsing 401,867 m3

Ballast:

600 m3 ballast tank(s)
Accommodation
Berths:

fixed: 0

Oven:

4x combi steamer oven

Microwave:

aanwezig

Fridge & power source:

koeltafel inloop koelruimte met 400 Volt koelcompressor 3x flessen koelkast 3x koelkast

Freezer:

inloop vriesruimte met 400 Volt compressor 2x vriezer

Heating:

2x centrale verwarming op diesel

Air conditioning:

in iedere hut aanwezig reverced circle in salon aanwezig
Engine, electrics
Brand:

Scania DI16 42M 2011 in bedrijf gesteld

Power:

3x 525 pk 3x 386 kW

Engine hours:

3x 16000

Propulsion:

3x Z-drive 3x Veth roerpropeller duoprop

Cooling system:

gesloten 3x beunkoeler

Fuel tanks:

150 m3

Cruising speed:

15 km/uur kruissnelheid bij 1250 RPM 20 km/uur topsnelheid

Bow thruster:

Boterman boegschroef via dieselmotor (Cummins) 360 graden draaibaar 360 pk

Battery:

start accu(s) start accu(s) boegschroef start accu(s) generator nood accu(s)

Battery charger:

2x Victron Centaur acculader 24/30 1x Victron Phoenix acculader 24/25 1x Victron acculader

Generator:

240 kVA 230/400 Volt (2011) 150 kVA 230/400 Volt (2011) 75 kVA 230/400 Volt (2011)

Comments:

Besturing: hydraulisch stuurbekrachtiging 3x Veth roerpropeller (2011) = stuurbare PODS 1x binnen stuurstand 2x buiten stuurstand
Stroomvoorziening: 12 / 24 / 230 / 400 Volt 400 Volt walstroom aansluiting 70-80 % nieuw systeem
Navigation and electronics
Comments:

Navigatie apparatuur: 3x RT2048 marifoon ComNav Voyager X3 Automatisch Identificatie Systeem (AIS) Alphathron / JRC JMA 610 daglicht radar JRC GPS kompas PC navigatiecomputer Tresco kaartplotter Veth rivier automatische piloot & wegafhankelijk sturen Alphathron bochtaanwijzer intercom Icom IC-M33 hand marifoon hoorn navigatieverlichting blauw bord met knipperlicht echolood / dieptemeter zoeklicht ruitenwisser radio / CD tachograaf
Rig and sails
Comments:

Mast: lantaarn mast aluminium & radarmast aluminium Strijkbaar: ja hydraulisch
Deck Equipment
Bimini:

aanwezig hydraulisch zakbaar

Comments:

Waterdruksysteem: hydrofoor Dekwaspomp: aanwezig Gas systeem: geen gas aan boord Aanvullende informatie: 400 liter vuilolie tank (ca.) brandbluspomp lucht compressor
Safety
Bilge pump:

aanwezig

Comments:

Reling / Preekstoel: reling rondom bovendek Bijboot: kunststof bijboot met buitenboord motor 5 pk Veiligheid: reddingsboei(en) reddingsvesten 2x FM200 automatische brandblusinstallatie in motorruimte brandalarmsysteem brandblusdeken bilge alarm volgens de certificering-eisen
This boat data may have been translated into your language via an automatic translation program. Errors can occur during this process. Ask the seller for complete boat details before purchasing.

Hotel / Passagiersboot 138 passagiers
£ 2.214.482 (€ 2.490.000)