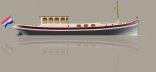 Year of construction
2023
John Deere 4045 new 125 hp.
Basic data of the Luxe Motor 19.75 Cruise
Seller:

Doeve Makelaars en Taxateurs Jachten en Schepen

Reference:

171106

Brand:

Luxe Motor 19.75 Cruise

Motorization:

John Deere 4045 new 125 hp

Category:

Ex-commercial motor boat

Additional category:

Motor Yacht

Year of construction:

2023

Material:

Steel

Length:

64.80 feet

Width:

16.08 feet

Draught:

4 feet

Variable draught:

No

Country:

Netherlands

To view in sales harbour/showroom:

No , Omgeving Harlingen

Price:

price on request
General
Remarks:

Great designed and newly built Luxury Motor. Designed and built according to modern shipbuilding techniques but completely with the traditional look of the original ships. Among others with round bilges and an overseamed hull. The finish is high quality and fully adapted to your own wishes so you can compose your own dream ship. The layout as shown is therefore a layout idea. The aft deck is spacious with patio doors to the wheelhouse. With the dimensions of this ship you can reach a large sailing area that stretches from the Mediterranean Sea to the Baltic Sea and from the North Sea to the Black Sea. Your ship does not require a certificate for the inland waterways including the Rhine, so you can make your dream trip undisturbed. The shipyard is very competent and has already built and rebuilt many ships. The complete information of this ship can be found on www.doevemakelaar.nl.
Click here for more information



Designer:

Gaastmeer Navel Architect, NL-Gaastmeer

Shipyard:

Scheepswerf Scheepsbouw & Reparatie Friesland (SRF), NL-Harlingen

Hull shape:

platbodem ronde kimmen

Deck construction:

staal 6 mm Grade A ST37/2

Superstructure:

staal 6 mm Grade A ST37/2

Draught:

110 cm

Displacement:

40 ton

Ballast:

15 ton staal gecoat
Accommodation
Berths:

Oven:

combi magnetron/oven

Fridge & power source:

Candy koelkast 230 Volt

Freezer:

vriesvakje

Heating:

Caminus 20 centrale verwarming combi ketel op diesel

Air conditioning:

optioneel
Engine, electrics
Brand:

John Deere 4045 nieuw

Power:

125 pk 92 kW

Propulsion:

vetgesmeerde schroefas schroefaskoker 3 blads schroef homokineet met stuwdruklager in schroefas

Cooling system:

gesloten beunkoeler geïsoleerde uitlaat

Fuel tanks:

2x 1500 liter stalen tank(s)

Bow thruster:

Sidepower elektrische boegschroef 240 KGF 24 Volt

Battery:

4x Optima Red Top boegschroef accu(s) service accu(s) 800 amp @ 24 Volt 2x start accu(s)

Battery charger:

Victron Quattro combi omvormer/lader 24/5000

Generator:

optioneel

Inverter:

Victron Quattro combi omvormer/lader 24/5000

Comments:

Besturing: hydraulisch stuurwiel balansroer nood helmstok
Stroomvoorziening: 24 / 230 Volt 230 Volt walstroom aansluiting omschakel automaat mainmaster control professioneel geinstalleerd systeem Laadstroomverdeler (scheidingsdiode): aanwezig Scheidingstransformator: Victron scheidingstransformator 7000 Watt Aardlek schakelaar: aanwezig
Navigation and electronics
Comments:

Navigatie apparatuur: marifoon roerstandaanwijzer Raymarine i70 Tridata echolood / dieptemeter Raymarine i70 Tridata log / snelheid navigatieverlichting zoeklicht hoorn 2x ruitenwisser
Rig and sails
Comments:

Mast: lantaarn mast hard hout Strijkbaar: ja handmatig
Deck Equipment
Comments:

Waterdruksysteem: hydrofoor Dekwaspomp: aanwezig Gas systeem: aanwezig Aanvullende informatie: LED verlichting
Safety
Bilge pump:

aanwezig

Comments:

Reling / Preekstoel: roestvast stalen zeereling 316 Veiligheid: 3 brandblussers Mabo automatische brandblusinstallatie in motorruimte reddingsboei(en) brandblusdeken
This boat data may have been translated into your language via an automatic translation program. Errors can occur during this process. Ask the seller for complete boat details before purchasing.