Back to search results
Riviera 4800 SPORT YACHT SERIES II - PLATINUM EDITION -New Yacht - Ready For Delivery!
1
£ 1.036.760 (€ 1.165.750)

VAT Not paid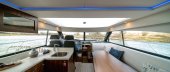 Year of construction
2021
This Riviera 4800 is equipped with 2 Volvo-Penta D8-IPS 800 engines of 600 hp each, IPS Systeem. An A-brand yacht with very high quality finish and 2x IPS Volvo D8-IPS800 engines! Available from stock, trade in possible!
Basic data of the Riviera 4800 SPORT YACHT SERIES II - PLATINUM EDITION -New Yacht - Ready For Delivery!
Seller:

BestBoats International Yachtbrokers

Reference:

Riviera 4800/077

Brand:

Riviera

Model:

4800 SPORT YACHT SERIES II - PLATINUM EDITION -New Yacht - Ready For Delivery!

Motorization:

This Riviera 4800 is equipped with 2 Volvo-Penta D8-IPS 800 engines of 600 hp each, IPS Systeem

Category:

Motor Yacht

Additional category:

Speedboat and sport cruiser

Year of construction:

2021

Material:

GRP (Polyester)

Experience:

A day of boating fun, Family holidays, Large groups aboard, Fast motorboating, Blue water cruising, seagoing, Weekendcruiser, weekends aboard

Length:

51.51 feet

Width:

15.12 feet

Draught:

4 feet

Variable draught:

No

Vertical clearance:

470 cm

Headroom inside:

205 cm

Beds:

5fixed

Country:

Netherlands

To view in sales harbour/showroom:

No , Bestboats Roermond

Price:

£ 1.036.760 VAT Not paid (€ 1.165.750 VAT Not paid)

Trade-in possible:

Yes
General
Remarks:

New build Riviera Sports Yachts 4800 Platinum Edition SII
From now on on you can visit us at Bestboats Roermond!

Riviera Yachts is built to stand out in looks and styling. The Platinum series II of Riviera takes this to an even higher level. Riviera's new color palette consists of silver, black and white - combined in a design of clean lines revealing a powerful and elegant look. Riviera sets high standards for technology and motorization and only works with A-brands, including Volvo for the motorization.

The Riviera 4800 Sport Yacht has the latest system from Volvo: the Volvo Penta IPS 800 D8 Twin Diesel engines! The latest system based on IPS drive not only realizes greater performance, it is also more economical in energy consumption allowing longer distances to be covered. A boat equipped with Volvo Penta IPS, accelerates much faster and has a higher top speed.

Due to the design of Riviera Yachts, there is a seamless connection from inside to outside. Outside are two lounge areas, including a large table for a large party. Outside there is also a bar with a refrigerator, ice machine, sink, and more! The design is as practical, as it is luxurious. The materials are all high quality. The railing is made of stainless steel and the wood is high-quality lacquered.

Do you have a tender? It fits perfectly in the spacious tender garage!

Riviera stands behind every yacht they build with a 5-year structural warranty and a 5-year warranty on all controls, displays, steering, propellers, IPS and engines.

Become a member of the Riviera family when you purchase a Riviera - - "We boat with our customers" -


Click here for more information



Shipyard:

Riviera Australia Pty Ltd

Hull number:

077

CE-category:

B
Designed for sea voyages up to wind force 8 on the Beaufort scale and a wave height of up to 4 metres, for example at sea

CE max weight:

2,485 kg

Passenger capacity:

15

Hull shape:

V-bottom
Designed by the Riviera design team with very good sailing characteristics on sea and inland waterways.

Hull colour:

Grey

Deck colour:

White

Deck construction:

Grp (polyester)
The cockpit (open cockpit) is equipped with teak deck, the swimming platform is equipped with GRP teak.

Superstructure:

The color scheme of the Platinum gives a luxurious look with its metallic gray hull and Platinum gray colored roof.

Windows:

Cockpit:

Aft cockpit

Open cockpit:

Vertical clearance:

4.7 m

Draught:

124 cm

Waterline length:

1,388 cm

Displacement:

18,565 kg

Steering system:

Wheel
The Riviera can be manoeuvred very accurately by means of two standard joysticks, one in the salon and one outside.

Position steering system:

Inside + outside

Rudder:

Double
The steerable pods provide superior low speed manoeuvrability and excellent high speed performance.

Trimflaps:

Volvo trim assist system

Comments:

The ship is equipped with:
Volvo Penta Anti Corrosion Protection ( ACP )
Volvo Penta Digital Positioning System (DPS)
Volvo Penta IPS Line Cutters
Volvo Penta Trim Assist System
Volvo Penta 2 Joystick (dashboard and cockpit)



 

 
Accommodation
Saloon:

Layout and spaces inside:

Very spacious saloon with Webasto sliding roof and large opening window between the saloon and cockpit. The saloon has a generous L-shaped sofa on which you can also dine.

Headroom:

205 cm

Separate Dining area:

Engine room:

Cabins:

2
The luxury owner's cabin is located in the front of the ship with a private ensuite bathroom to create as much privacy as possible. The guest cabin is located under the saloon with a private bathroom.

Berths:

fixed: 5
The ship is equipped with two sleeping cabins, the owner's cabin is equipped with a double free standing bed. The guest cabin has three beds, two of which can be electrically pushed together to create a double bed. The bedrooms are also equipped with 100% wool carpet color: Troika Moscow.

Type interior:

Modern, wood look
All upholstery is done in Sunbrella fabric in the color gray. The interior is finished in walnut. The steering chair is finished in black. The upholstery of the bed frame and headboard is executed in Bodhi Linen - Shore Ultraleather.

Color upholstery:

Grey

Mattresses:

Cushions:

Curtains:

The windows in the salon are fitted with blinds

Water tank & material:

400 litre Plastic

Water tank gauge:

The installation of the entire ship can be monitored by means of CZone Control Monitoring

Waste water tank:

151 Litre Plastic

Waste water tank gauge:

Waste water tank drainpump:

Deck suction:

Water system:

Pressure system
Double hydrophore

Hot water:

Kuuma water theatre 40 liters

Seawater pump:

Outside water:

Deck wash pump Deck Shower

Number of showers:

2
The spacious shower cabins are equipped with a glass shower wall, the floors and sinks are made of corian.

Toilets:

2 Electric Vacuum
Dometic Vacuflush (fresh water), including a dirty water pump operated from the dashboard and wash-extraction connection in the deck.

Television:

Lounge - 32'' LED TV on electric elevator Lounge - 24'' LED TV Owners cabin - 24" LED TV

Radio/CD player:

Each room is equipped with Fusion radio incl. loudspeakers

Satellite reception:

Cooker & fuel:

2 burner(s) Electric
Smeg SA312XA-1 30cm Ceramic incl. Dometic hood.

Microwave:

Smeg SAM34CXI

Fridge & power source:


1x Isotherm 160 litres with cooling drawer and freezer drawer. 2x Isotherm 49 litres with freezer compartment of which 1x in the salon and 1x in the bar. The bar is also equipped with an ice cube machine.

Freezer:

Heating:

Webasto diesel Air Top EVO 55 for the salon, Air Top EVO 40 for middle and front cabins and Air Top 2000 for rear cabins.

Air conditioning:

Dometic
Air conditioning units: 36,000 + 24,000 + 12,000 BTU built in kitchen, salon, lounge, master bedroom and guest cabin.

Comments:

In the tender garage there are two deck wash connections, one seawater connection and one fresh water connection.

In the bathroom there is a washer/dryer combination built in
Engine, electrics
Number of identical engines:

2
The Volvo Penta D8-IPS is a perfectly matched package powered by the six-cylinder in-line D8, a 7.7-liter common-rail diesel engine with a twin-entry turbo and supercharger for incredible response at low engine speeds. Combined with a perfectly matched IPS15 pod, two counter-rotating propellers and the Electronic Vessel Control system, this package offers excellent maneuverability, a long range and low emissions.

Starting type:

Electric

Type:

Inboard

Brand:

Volvo Penta

Model:

D8-IPS800

Year:

2021

Number of cylinders:

6

Power:

2x 600 hp

Hours counter:

Fuel:

Diesel

Fuel consumption:

Depends on use and sailing speed. At 7 knots approx. 10 litre/hour and at 28.2 knots approx. 198 litre/hour.

Gearbox:

IPS 15

Propulsion:

Pod transmission

Cooling system:

Indirect
Heat exchanger

Fuel tanks:

1
Made of polyester with fire resistant coating

Total fuel tank(s) capacity:

2,100 Litre

Max speed:

64 km/h

Cruising speed:

52 km/h

Range:

269 naut. miles

Measuring instruments:

C zone vessel control system for AC and DC systems, including control of drinking water tanks, batteries, shore power and generator. 10'' touchscreen in the saloon for full control and monitoring of the vessel.

Fuel tank gauge:

Volvo Penta Electronic Vessel Control
Glass Bridge

Tachometer:

Volvo Penta Electronic Vessel Control
Glass Bridge

Oil pressure gauge:

Volvo Penta Electronic Vessel Control
Glass Bridge

Temperature gauge:

Volvo Penta Electronic Vessel Control
Glass Bridge

Battery:


4 Starter batteries 100 AH (maintenance free), 2 Service batteries 215AH , 2 Auxiliary batteries 100 AH

Battery charger:

60 A
Mastervolt 24/2600-60amp charger

Alternator:

110 A
2x

Battery monitor:

Generator:

Onan EQD
11kW/50hz

Inverter:

2.600 Watt
Mastervolt 24/2600-60

Voltmeter:

CZone Control & Monitoring

Shore power:

2x 15 Amp shore power

Shore power cable:

Voltage:

24V 220V

Comments:

Industry-leading power-to-weight ratio, increased torque, impressive fuel economy, quiet, smooth and breathtaking performance thanks to twin Volvo D8 IPS 800 turbo diesel engines with 600 hp each.

- Heat and sound insulation in engine room
- 12v LED lighting in engine room
- Volvo IPS line cutters
- Mastervolt battery monitor Mastershunt 500
- Parallel system for batteries


 

 
Navigation and electronics
Compass:

Volvo / Garmin

Log/speed:

Volvo / Garmin

Depth gauge:

Garmin GSD 26

Navigation lights:

LED, according to regulations

Rudder position indicator:

On Garmin display

Autopilot:

Volvo / Garmin
Integrated Glass Bridge

GPS:

Volvo / Garmin
GPS & GRID controller

Chart plotter:

Glass Bridge
2x 12''

Radar:

Garmin GMR Fantom 54

AIS:

Garmin

VHF:

Icom

Comments:

Spotlight on the hardtop, operated from the steering position.

2x 12'' Glass Bridge

1x 7'' Volvo display

1x 10'' Czone for full vessel control and monitoring
Deck Equipment
Anchors & material:

1 x Delta Galvanized
27KG - 50M 10MM chain incl. chaincounter

Anchor connection:

Chain

Anchor windlass:

Electric
MUIR STORM 2500, controllable from steering position incl. chain counter

Bimini:

Grey bimini over rear deck

Outdoor cushions:

On the foredeck, two sunbeds are provided with folding backrests. These sunbeds are equipped with cup holders, cover sheets and drainage. Cover sheets are also provided for all the seats in the cockpit. The sunbeds have diamond stitching and the color of the sunbeds is gray.

Sea rails:

All-round 316 stainless steel

Swimming platform:

Hydraulic swimming platform with a lifting capacity of 250 Kg

Swimming ladder:

Stainless steel ladder integrated in swimming platform

Teak deck:

Fenders, lines:

Fenders 4x, Mooring ropes 4x and a boat hook

Cockpit table:

Comments:

The ship is equipped with a tender garage, this tender garage opens electrically, has room for a tender of 2.7 meters and has storage space for fenders. The swimming platform has a lifting capacity of 250 kg. To pull the tender inside easily, the tender garage is equipped with an electric winch and a stainless steel guide rail can be placed on the swimming platform.

The cockpit (open cockpit) is equipped with a bar, in this bar is a sink, refrigerator and ice maker processed. You can also use the electric barbecue from the swimming platform, which is equipped with a work surface and 4 cup holders.

A sunscreen to cover the windshield against the heat and tarpaulins for the windows in the salon, both in color black.

The ship is also equipped with several cameras, a camera on the canopy, a camera at the anchor and one on the sea rail.
Safety
Bilge pump:

Manual Electric
3x

Fire extinguisher:

4 fire extinguishers, 1x automatic in engine room

Self-draining cockpit:

Comments:

On board there is a removable ladder for service on the roof.
This boat data may have been translated into your language via an automatic translation program. Errors can occur during this process. Ask the seller for complete boat details before purchasing.

Riviera 4800 SPORT YACHT SERIES II - PLATINUM EDITION -New Yacht - Ready For Delivery!
£ 1.036.760 (€ 1.165.750)

VAT Not paid