Year of construction
2022
Yanmar 15 HP. Following on from the outstanding success of the MC38 One Design, McConaghy Boats brings you the MC31 a High Performance, Grand Prix racer that is …
Basic data of the McConaghy MC31
Seller:

Ancasta - Raceboats

Reference:

30657

Brand:

McConaghy

Model:

MC31

Motorization:

Yanmar 15 HP

Category:

Sailing Yacht

Year of construction:

2022

Material:

GRP (Polyester)

Length:

29.53 feet

Width:

10.01 feet

Draught:

9 feet

Variable draught:

No

Country:

China

To view in sales harbour/showroom:

No , McConaghy Factory China

Price:

£ 117.159 VAT Not paid ($ 155.000 VAT Not paid)

Account Manager:

Ancasta - Raceboats
General
Remarks:

Following on from the outstanding success of the MC38 One Design, McConaghy Boats brings you the MC31 a High Performance, Grand Prix racer that is true to it's design brief: fun, fast, and rewarding to sail . Outstanding hull form stability, with a deep draft carbon fin and a heavy bulb combined to provide a low centre of gravity and stability that is unmatched in this size range. The MC38 has demonstrated that with careful design of a powerful hull form and a powerful sail plan, high performance sailing can be exciting in all wind ranges without being taxing on crew and skippers. The MC31 will do the same, it will sail like a much larger yacht upwind in a breeze and light up down wind like a skiff, but be stable enough to stay up right and safe.

Click here for more information



Superstructure:

Aft Cockpit

Draught:

260 cm

Keel/Lee board:

Fin Keel

Comments:

General Specs;
LOA - 9.15 m
BOA - 3.05 m
Draft - 2.60 m
Fuel Tank - 42 L
Engine - 15 hp
Designer - Dunning and Associates

Designed and constructed in accordance with the requirements of ISO 12215 Category A as per ISAF Offshore Special Regulations, Section 3.03.1 a)
E glass, foam core, vinylester resin infusion

Keel
Carbon fibre keel fin
Lead Bulb
Retractable for motoring in shallow water & transport
Optional keel block to raise keel by 300mm for reduced draft sailing (removable for O.D.)
Optional removable crane for keel retracting
Optional Weed cutter for keel fin

Rudder
Carbon fibre rudder stock
Self aligning Jeffa bearings
Accommodation
Berths:

Comments:

Owner supplied inventory, but talk to Ancasta for full specs and discounted rates.
Engine, electrics
Number of identical engines:

1

Type:

Inboard

Fuel:

Diesel

Transmission:

Saildrive

Comments:

Harken Deck Gear Package
2 x Primary Winches - Harken 40.2 PTP (Plain Top Performas)
2 x Runner Winches - Harken 35.2 STP (Self Tailing Performas)
4 x Harken winch handles
Carbon fibre air foil stanchions, pushpits and pulpits
Stainless Steel 1/19 wire lifelines
Fixed bow pole easily removable from socket in bow
4 x Spinlock XTR rope clutches in pit (jib, frac, MH, tackline)
Running Rigging Supplied by Sydney Rigging Specialists & Southern Spars:
2 x Jib sheets
2 x Spinnaker sheets (lead under deck to trimmer)
1 x Tack line lead to stb side of pit (1:1 and 2:1 options as standard
2 x Running backstay tails
Jib In/Out purchase lead to jib trimmer on both pt & stb side
Jib Up/Down purchase lead to jib trimmer on both pt & stb side
Jib Cunningham purchase lead to jib trimmer on stb side
Spinnaker Take down line lead to cockpit aft
Mainsheet coarse tune on swivel cleat in cockpit
Mainsheet fine tune purchase lead to main trimmer
Traveller purchase lead to main trimmer
Main Cunningham purchase lead aft to main trimmer
Main Outhaul purchase lead aft to main trimmer
Vang purchase lead aft behind traveller
Carbon fibre tiller with spinlock tiller extension
Carbon fiber helmsman and main trimmer foot bars
4 x Inspection ports on cockpit sides for rope tails
McConaghy custom sliding forward hatch with pneumatic seal. Rounded edges of front hatch for smooth spinnaker hoists and drops. Hatch seal pump located in cockpit.
Rig and sails
Sailplan type:

Sloop

Comments:

Rig + Rigging - Supplied Exclusively by Southern Spars
Carbon fibre Mast
Two sets of swept back carbon spreaders
Split two piece mast with reuseable join for ease of road transport
Internal Hydraulic Mast Jack easily adjustable when sailing
Optional Easily adjustable mast step with screw for prebend tuning & hinging mast base to allow rig to be lowered aft
Main halyard lock
Jib halyard (Vectran) with XTR rope clutch
1 x Mast head spinnaker halyard
Optional 2nd Mast head spinnaker halyard with XTR rope clutch (removable for O.D.)
1 x Fractional halyard
Optional bullet lock for fractional halyard (removable for O.D)
Optional genoa staysail halyard with XTR rope clutch (removable for O.D.)
Adjustable Forestay with lashing
Carbon Fibre Boom includes 2 reef lines with in built XTR rope clutches and outhaul purchase
Hinging mast base for easy stepping and lowering of mast. (Mast hinges aft through
Optional 1706 Tuff Luff for headstay
Optional Variable thickness shim stack for hydraulically adjustable mast step (light medium heavy)
Optional mast lowering poles and car assembly
Deck Equipment
Comments:

Interior
2 x setee seats with lifting lids in saloon area
2 x setee seat cushions - black with red piping
Light weight "porta potti" head
Removable ice box cooler under companionway step.

15 hp Yanmar diesel engine with Sail Drive
2 Blade Folding Propeller
Spinlock flush throttle control
Fuel filter and water seperator
Waterlock muffler
42 Litre rigid plastic fuel tank

12Volt DC Distribution Panel
Start battery
House battery
Alternator 80 amp
LED Navigation Lights
1 Manual bilge pump
This boat data may have been translated into your language via an automatic translation program. Errors can occur during this process. Ask the seller for complete boat details before purchasing.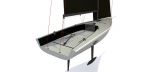 McConaghy MC31
£ 117.159 ($ 155.000)

VAT Not paid