Superyacht charter
Looking for a super yacht charter in the Netherlands? Rent a super yacht via YachtFocus Charter from one of the professional yacht charters and enjoy the extensive comfort aboard a super yacht. Then immerse yourself in a world of luxury and almost unlimited possibilities. We also call it total relaxation. With a captain and full crew on board, you don't have to do anything but enjoy.
Would you like to book a day charter or even a luxury sailing holiday on a super yacht? Make your choice from the range of super yachts below and book your super yacht easily and quickly.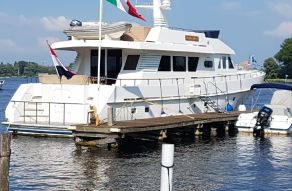 Biesbosch, Brassemermeer, Dutch Deep, Edge Lakes, Friesland, Green Heart, IJsselmeer, Maas, Markermeer, Noord-Holland, The Netherlands, Westeinderplassen, Zeeland, Zeeland and South Holland Delta, Zuid-Holland
A day of boating fun, Large groups aboard, Luxury & privacy
10 Persons
Rent from £ 1.245 (€ 1.400)
Boating license not required
Captain included
Discover the Netherlands from a super yacht
Renting a super yacht not only means a lot of luxury but also space. Space for you and your family or friends to celebrate a luxury holiday together and enjoy the Dutch waters. Sail the popular sailing routes, or visit idyllic towns and villages along these routes. This way you can experience the Netherlands from the water. You can also discuss the desired routes with the captain. For example, choose from the Frisian lakes and then descend via the rivers, or choose the coastline from the North Sea. Thanks to the large sailing range of a super yacht, there are numerous possibilities. On the basis of your wishes, the super yacht charter companies will be happy to tell you more about this.