Catamaran charter
A multihull is a boat with more than one hull. The best known multihulls are the catamaran and the trimaran. Charter a catamaran or trimaran and you have an ideal boat to sail with your family, friends or colleagues. Multihull sailboats are known for their large capacity, strong construction, shallow draft, excellent sailing characteristics and high degree of stability. This makes these boats also ideal for example a sailing trip with a large group.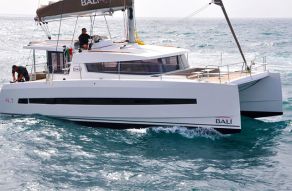 Adriatic Sea
A day of boating fun, Family holiday, Large groups aboard, Low passage, Luxury & privacy, Quiet, electric motorboating, Weekend cruising
8 Persons
Rent from £ 2.757 (€ 3.100)

- At Sea Yachting
Sailing license mandatory
No skipper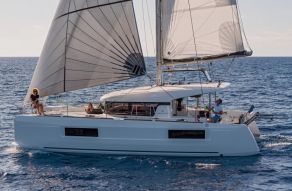 Edge Lakes, Friesland, IJsselmeer, Markermeer, North Sea, Northern Netherlands, The Netherlands, Wadden Sea, Wadden Sea and IJsselmeer
Drying out, Family holiday, Shallow waters, Weekend cruising
10 Persons
Rent from £ 1.229 (€ 1.382)

- Tornado Sailing Makkum
Boating license not required
No skipper
Difference between a catamaran and a trimaran
In a catamaran, the total weight is carried by two floats. This in contrast to the trimaran. As the name indicates, the trimaran has three parts: a middle hull and two floats. The weight is mainly carried by the middle hull and possibly additionally by one or both floats.
Catamaran charter
When chartering a catamaran, many people quickly think abroad, but there are also plenty of catamarans for rent in the Netherlands for an unforgettable catamaran sailing trip. The minimum rental period is often one day. However, many catamarans can also be rented for a long weekend, midweek, week or several weeks. Several boat rentals also offer skipper training. Here you will get a day (part) of instructions to learn how to sail on a catamaran.
Trimaran charter
Trimarans may be more scarce than catamarans, but you don't have to go abroad to rent a trimaran. Usually these boats are richly equipped with an extensive set of sails for the larger courses. Renting a trimaran is often possible after training or with proven sailing experience.
Advantages of a multihull sailboat
The first advantage that stands out is the enormous living space. At a length of 9 meters most catamarans already have three separate cabins, a galley and a wet room. But the advantages are also noticeable while sailing. Due to the construction, the catamaran and trimaran have great initial stability. In addition, these types of sailboats have a low resistance. Because of this combination they are usually faster than ordinary monohull sailing yachts. Also, seasickness is less often a problem on multihulls. This is due to the extra stable position on the water.
Another big advantage is the limited draught. This means that a multihull sailing boat will take you to places that are inaccessible for an ordinary sailing yacht. On the Wadden, for example, you can sail almost anywhere and fall dry in the most beautiful places. Other interesting sailing areas are the IJsselmeer, Markermeer and the North Sea.