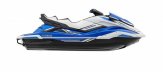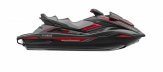 The all-round capabilities of our completely redesigned WaveRunner are remarkable.
Basic data of the Yamaha Waterscooters Performance FX Cruiser SVHO Blue
Seller:

Holland Sport Boat Centre

Brand:

Yamaha Waterscooters

Model:

Performance FX Cruiser SVHO Blue

Category:

Jetski and waterscooters

Additional category:

Motor Yacht

Material:

GRP (Polyester)

Experience:

A day of boating fun, (Semi) permanent residence, Fast motorboating

Length:

11.75 feet

Width:

4.17 feet

Draught:

0 feet

Variable draught:

No

Country:

Netherlands

Price:

£ 20.006 VAT Paid (€ 22.495 VAT Paid) (starting price)

Account Manager:

Christiaan van den Broek
General
Remarks:

The all-round capabilities of our completely redesigned WaveRunner are remarkable. It's a comfortable long-distance cruiser, full of handy innovations like the 'theatre-style' triple seat - but open the throttle and this sports machine is ready for extreme action.

The powerful SVHO engine, sleek design - and lightweight NanoXcel2 hull - deliver great performance. Add to that the stable location and manoeuvrability, supported by our revolutionary RiDE control system.

Full electronic control system with Cruise-Assist, 3-position No-Wake Mode, electronic reverse, TDE (Thrust Directional Enhancement Control) - the list goes on and on.

Supercharged 1812cc engine
This amazing SVHO (Super Vortex High Output) motor is characterized by a smooth and flexible power build-up and is equipped with highly efficient cooling and air intake systems and a strong internal motor construction. The large Hyper-Flow-Jet pump converts this power into stunning acceleration and the electronic fuel injection (EFI) ensures smooth and efficient power delivery.

All-new shape and hull design with NanoXcel2
The fuselage of the latest FX Model is made of Yamaha's unique NanoXcel2-meteriaa. Very light, yet strong and stiff. This combined with the sleek and aerodynamic shape, gives a great result on the water - fast acceleration, higher top speed, more economical - and a more comfortable ride.

RiDE system (with electronics to reduce reverse speed)
The revolutionary RiDE system provides a whole new experience and greatly enhances the self-confidence of every driver, at every level. Forward and accelerate with the throttle on the right handle, slow down or reverse with the lever on the left handle. It's as simple as that!

Electronic steering - a true boating revolution
Our sophisticated electronic operating system will surprise you with its 'intelligent' features. Use the Cruise Assist to maintain precise speeds, the 3-position No Wake Mode to navigate through low speed areas - the Electronic Reverse Assist and TDE (Thrust Directional Enchancement) for cruising at very low speeds and mooring.

New drive control system
The latest generation of our well-known 'L-Modus' system allows you to preset not only a top speed, but also the degree of acceleration. This makes you the perfect partner whether you're lugging tyres or wakeboards. For inexperienced operators, it's also possible to lock down lower speeds - or set a fixed speed for longer trips for maximum economy.

Electronic trim system for shifting gears while cruising.
This special system provides full control of the trim position while under way. With the two buttons on the left handle, you can control the trim with a single click for a sharp turn or to rush away quickly. A clear view of the trim position while underway is a feature of a stylish new CONNEXT colour palette.

The first color touch display in this take of sport.
Clear overview of F-N-R, Speed, trim and RiDE system status with diagnostic information and control of all electronic systems. These are features of the new 4.3" colour touch screen; CONNEXT. Fully customizable - from screen color and layout to the function you want to use or show.

Luxury, comfort, legroom drainage - and easier onboard climbing
The FX Cruiser has it all: from the four-step adjustable steering column to the luxurious triple seat - and the handy flip-up frogs, to a larger swimming platform with a deeper, wider, softer and more comfortable boarding step and double braces to climb aboard. And also the first drainage system for legroom.

30% more storage for even more adventures
We've achieved 30% more storage space in the latest models of our FX Series - so you can go longer and further afield. Smart, integrated and practical storage options throughout the boat. Including a very large and waterproof glove compartment and plenty of space under the seats, both at the bow and stern.

Unique security system is easy to use
Thanks to the innovative system, there is no separate remote control to worry about - just use the PIN code to unlock the alarm and control mode via the convenient switch - and one touch on the new CONNEXT display.

New Multi-Mount accessory system
Wouldn't it be nice if you could bring the accessories you want when you go out on the water for the day? Now that's possible. The new Multi-Mount system means you can bring your speakers - or a GPS system - or your GoPro ... everything is firmly attached to the beautiful body of the new FX.


Click here for more information



Passenger capacity:

3

Draught:

1 cm
Accommodation
Engine, electrics
Total fuel tank(s) capacity:

70 Litre
This boat data may have been translated into your language via an automatic translation program. Errors can occur during this process. Ask the seller for complete boat details before purchasing.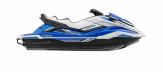 Yamaha Waterscooters Performance FX Cruiser SVHO Blue
from£ 20.006 (€ 22.495)

VAT Paid