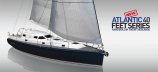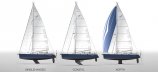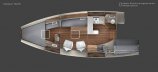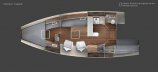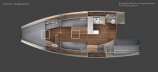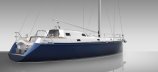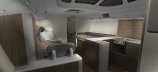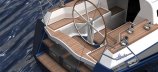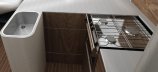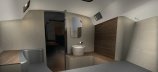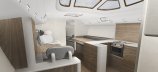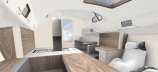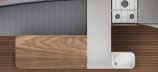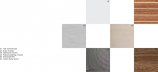 1 Yanmar 3JH4-CE 38 hp. The Atlantic 40 comes in three variants: Singlehanded, Coastal and North.
Basic data of the Atlantic 40
Seller:

Jachtwerf Atlantic BV & Jachtcentrale Harlingen

Reference:

YFM-114

Brand:

Atlantic

Model:

40

Motorization:

1 Yanmar 3JH4-CE 38 hp

Category:

Sailing Yacht

Material:

Aluminium

Length:

41.67 feet

Width:

12.96 feet

Draught:

6 feet

Variable draught:

No

Country:

Netherlands

Price:

price on request
General
Designer:

Dick Zaal, Søren Knittel

Shipyard:

Atlantic Nieuwbouw

Draught:

185 cm

Maximum draught:

243 cm

Waterline length:

1,190 cm

Comments:

The Atlantic 40 comes in three variants: Singlehanded, Coastal and North. The specifications of these three variants differ, so please see the attached brochure for more information.

Keel
Singlehanded: fixed lead keel with 1.85 draught
Coastal: Electric/hydraulic double acting stainless steel keel lift cylinder
North: Fixed lead keel with bulb and 1.85m draught

steering
Helm rod for "Singlehanded" and Jefa system steering position for the "Coastal" and "Offshore" version with a Tandem spoke aluminium steering wheel.
Accommodation
Berths:

fixed: 0

Comments:

Combi tube with double stainless steel sink, mixer tap and stainless steel 3 burner cooker with oven.
Toilet room with stainless steel sink, mixer tap with shower head and hose, Lavac vacuum toilet with Hendersen pump and dryer for wet sailing clothes.Black water tank for toilet discharge which by means of deck suction in cockpit rim or directly overboard can be emptied.
Engine, electrics
Number of identical engines:

1

Brand:

Yanmar

Model:

3JH4-CE

Power:

37 hp

Comments:

The installation is entirely carried out in 12Volt: service (1 x 220Ah AGM) and motor (1 x 60Ah AGM).
12 volts charger
Segregation transformer
Wall connection
2 x 230volt
Total 19 light points
Navigation and electronics
Comments:

The complete navigation lights will be fitted: 3-colour toplight, steamlight/decklight, red/green on pulpit and stern light.
Navigation instruments can be specified by the client but are standard equipped with Raymarine Depth Gauge, Speedometer and Wind gauge.
Rig and sails
Sail surface:

4,721

Comments:

Selden aluminum mast and boom with 2 one-line and 1 bib reefing system.

Botter rigging
Mainsail: 47.21 m² , 9.5 oz dacron, crosscut cut, Cruising version with battens and 3 lugs.
Sailcloth: standard, color of choice.
Rol reefing jib: 46,99 m², 9.5 oz dacron, crosscut/fanned cut, Cruising version, suitable for Furlex reefing/roller installation.
Rreefing system
Jib: Furlex type 300S for 8mm compact wire as forestay

Staande rigging
Frontstay, backstay (upper part), tophangs and bottomhangs 8mm stainless steel wire 1 x 19 with 5/8" tensioners and toggles.
Butterstay, babystay and intermediates 7mm stainless steel wire 1 x 19 with 1/2" tensioners and toggles
Rearststay sprout 8mm 7 x 19 over a stainless steel block with steel wire disc with on one side a Selden rearstay tensioner for winch handle.
Losse backstays

Running rigging
1 Mainsail trap 10mm Braid with key lock operated from cockpit
1 Crane line 10mm Braid with D-closure
1 Genuine 10mm Braid with snap closure
1 Cutterfall 10mm Braid with D-closure
1 Submersible 10mm Braid
2 reefing lines for 1-reefing system of first and second reef, 10 mm Braid operated from cockpit
1 Large-shot
2 Jib shots
2 Cutter jib shots
2 Control lines for overflow carriage
2 Rods
Deck Equipment
Comments:

2 Andersen lap winches type 46 ST on cockpit edge
1 Andersen lap winch type 40 ST on mast
1 Andersen lap winch type 40 ST on roof dockhouse
2 Andersen lap winches type 40 ST on cockpit edge

Large landing system from Ronstan
1 overflow rail 2 mtr
1 overflow carriage with double check discs and spring for standing block
2 end piece with double discs/ dogshot/clamp
1 single block 60mm with dogshot for on overflow carriage
1 single block 60mm on jib
upright block 75mm with base plate and spring

Stagfok system of Ronstan
2 nuarail 2 mtr
2 nuarail with plunger stop
2 double turning block 100 mm

Genoa system of Ronstan
2 nuarail 4 mtr
2 nuarail wagons with plunger stop
2 end piece

Rolfok system Selden
4 roller jib guide eye for sceptres
1 rotatable roller jib guide block
1 Spinlock XTS single stopper for control line

Fall stoppers/fall guides
2 Spinlock XTS stoppers 8-14 mm quadruple
2 fallguides 4 discs
2 fallguides 4 discs

Bakstay system
2 block 75mm
6 Goiot aluminium frogs
2 Lewmar 60 low profile hatch
4 Lewmar portholes, open version in build-up
4 Lewmar portholes, fixed in build-up
7 fixed acrylic windows in build-up (straight and curved)
10 stainless steel sceptres with plastic bushes mounted in the anodized jars
RVS pulpit and fence chair
Henderson bilge pump, operable from the cockpit
3 aluminium filler caps for water and diesel tank
2 Goiot aluminium deck fans
1 Rocna anchor with 10 mtr chain and 30 mtr line
4 mooring lines, 4 fenders
1 Fire extinguishers
1 Gas bottle with Camping Gaz 3 kg
1 Flag, flagpole and holder
2 winches Andersen, Aluminium version
Double marine wire with PVC jacket
1 stainless steel bathing ladder
1 radar reflector
This boat data may have been translated into your language via an automatic translation program. Errors can occur during this process. Ask the seller for complete boat details before purchasing.